Commissioner Bouchat Charter Government Q&A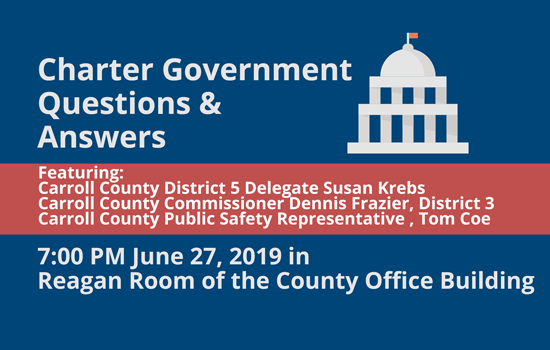 Location: Reagan Room Carroll County Government Office Building
Westminster, MD, Thursday, May 9, 2019 – C. Eric Bouchat, Carroll County Commissioner, District 4, rescheduled the Community Question & Answer session regarding the potential effects of charter government to June 27, 2019 at 7:00 p.m. in Room 003 of the County Office Building in Westminster. This event replaces the originally planned date of May 28, 2019.
The commissioner invites all interested residents to join him by attending this meeting to ask questions of a panel of local leaders. On the panel:
Carroll County District 5 Delegate Susan Krebs
Carroll County Commissioner Dennis Frazier, District 3
Carroll County Public Safety Representative and Chief of the New Windsor Fire Company Tom Coe
Citizens will be asked to complete a question card with the question and to whom the question is directed. This is purely a question and answers session, with no public comment session included.
"Please bring all your questions," said Commissioner Bouchat, "This is a great opportunity for citizens to learn more about charter government."