PEARLS - Program to Encourage Active and Rewarding Lives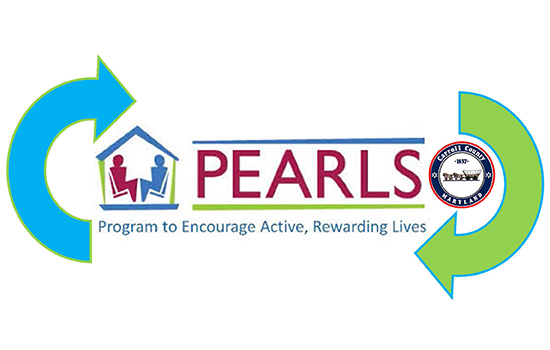 PEARLS
PEARLS (Program to Encourage Active and Rewarding LiveS) is a one-on-one evidence-based program designed to reduce depression in physically impaired and socially isolated individuals. The program is offered in 6-8 sessions over a 19-week period by a certified PEARLS Counselor.
Who can attend?
PEARLS is designed for adults with different kinds of depression:
Minor Depression – Individuals have some of the symptoms of depression, but do not meet the *DSM criteria for major depression or dysthymia.
Dysthymia – Individuals have an ongoing, low-grade depression of 2 or more years in which depressive symptoms are present most days than not.
Major Depression – Individuals have enough symptoms over the past 2 week to meet the criteria for a major depressive episode. PEARLS is also effective in treating major depression in all ages of adults with epilepsy.
*PHQ-9 is used to assess depressive symptoms
Does the program replace existing programs and treatments?
The program does not replace any existing programs or treatment. In fact, the classes enhance those provided through accredited programs often provided in hospital or community settings. This program does have clinical oversight (psychiatrist) who at times may make recommendations to the participant and also to the client's physician and medical team. Interaction with the client's providers optimizes patient safety and increase the comprehensiveness of the PEARLS intervention.
What can I expect?
PEARLS is an evidence based program designed to reduce depression in adults (18+). A PEARLS certified counselor leads the one-on-one sessions over a 19 week period. Sessions can be done in the home, or at a community location.
Sessions 1-3 are weekly, sessions 4 and 5 are bi-weekly and sessions 6-8 are monthly. Session structure includes the weekly administration of the PHQ-9 to assess for depressive symptoms.
The session focus on three fundamental principles:
What a participant is experiencing are symptoms, and the symptoms are due to depression
There is a close link between depression and unsolved problems
Increasing participation in social, physical, and other pleasant activities leads to a decrease in depressive symptoms.
When PEARLS participants use problem solving techniques, become more socially and physically active, and experience more pleasant activities, their symptoms of depression can be decreased.
An essential component of PEARLS is psychiatric supervision and consultation. The PEARLS counselor works closely with psychiatric oversight. Recommendations about psychiatric medications (mostly antidepressants) can be made a well as when medical issues, drug side effects, or other issues are contributing to depression or other mental health symptoms.
The key to the success of this program is that it is participant driven. Each week, counselors encourage their participants to define and select a program that they want to address, and then support the participant in selecting his or her preferred solution. Approximately eight problems are covered during the course of the sessions. Commonly selected problems range from financial, to social isolation, to health care needs or housing related issues.
Participants are also asked to increase engagement in social and physical activities. The key is to empower participants by encouraging them to engage in behaviors that help them reach their goals. Participants are urged to continue with the approach on their own after the sessions have ended.
Details of the program
PEARLS was developed and researched by the Health Promotion Research Center (HPRC) at the University of Washington, in close collaboration with local community partners.
PEARLS randomized, controlled trial (RCT) in the community setting evaluated the impact of participants' level of depression, quality of life, and healthcare utilization. This study showed that over 12 month, individuals who received PEARLS were more likely than those who did not receive PEARLS to:
Have a 50% or greater reduction in depression symptoms (43% of PEARLS of recipients vs. 15% of the usual care group)
Achieve complete remission from depression (36% of PEARLS recipients vs. 12% of the usual care group)
Have greater health-related quality-of-life improvements in both functional and emotional well-being. The study also demonstrated a trend toward lower hospitalization rates among those who received PEARLS compared to those who did not.
Please note, the participants in the RCT group had minor depression (51.4%) and the remainder had dysthymia (48.6%).
Call 410-386-3800 for more information.