CARES Act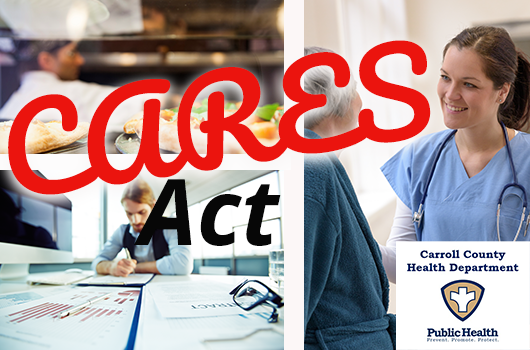 Since the start of the COVID-19 pandemic and Governor Hogan's declared State of Emergency for Maryland on March 5, 2020, Carroll County has seen unprecedented impacts on health, education, businesses, the economy and the provision of services resulting in unforeseen financial needs in response to this State of emergency.

The Coronavirus Aid, Relief, and Economic Security (CARES) Act was established to mitigate and provide aid to all States to respond and recover from the impact of the COVID-19 pandemic. Part of the CARES Act is the creation of the Coronavirus Relief Fund (CRF) and is an invaluable funding resource for Carroll County.

Under the CARES Act, the CRF Fund allows for reimbursement for approved specified expenditures, for the covered period, through the Carroll County Health Department to local agencies, non-profits, long term care facilities, and businesses.

The Carroll County Health Department is soliciting interested applicants who meet the criteria for reimbursement under the CARES Act, CRF Fund.