TO APPLY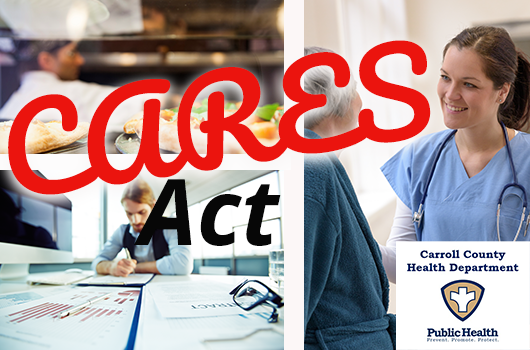 Applicants must apply to the Carroll County Health Department to request reimbursement for the COVID-19 response related expenses. Minimum application amount $1,000.00. All applications will be reviewed and approved by committee. Precedence will be given to the applicant who meets the priorities established.
The CCHD may only process reimbursement when actual expenses are incurred. However, when the application is approved by the committee the CCHD will place a hold on those funds to allow for reimbursement when the expenditures are incurred.
The application process requires the submission of the following:
Applicants may send in a budget plan (template included) for the expenditures already incurred and expected future expenditures
The CARES Act CRF Fund Reimbursement Request form
A reimbursement agreement will be executed for all requests over $50,000
The reimbursement process requires the submission of the following:
For submission from $1,000- $49,999 submit weekly
For submission for $50,000 and above submit monthly
A valid invoice with a Tax ID #, remittance address, and the line item expenditure detail
Sufficient backup documents for all expenditures (Such as receipts, reports, cancelled checks, etc.) to clearly identify the expenditure was related to COVID 19 during the covered period
Signed attestation stating no other funding was received for this expenditure
Note: Requests over $100,000 will require additional documentation such as audited financial statements per the Federal Risk Assessment requirement.
The CCHD may request additional documentation or justification if the first application submission does not provide detailed information to support the request.
Submit application, documentation and invoices to:
Carroll County Health Department Attn: Accounts Payable/CARES 290 S. Center Street
Westminster, MD 21157
CCHD shall pay applicant "Net thirty (30) days" after receipt of a properly prepared invoice, submission of the appropriate documentation and committee approval for payment.
Applicant may apply as needed to request funding to cover the approved expenditures, however, the submission process shall be completed for each request until approved funding is depleted.
The CCHD reserves the right to disapprove any request for reimbursement of not approved, inappropriate or expenditures that do not meet the criteria.
In the event an applicant will not be reimbursed, the CCHD will send a letter of denial to the applicant to the address provided.
The applicant agrees payment made by the CCHD be accepted as payment in full for expenditures and no additional charges shall be made to any person, program, or sub vendor.
If it is determined after the reimbursement has been made that an alternate source of funding was available for the requested expenditure, the CCHD will invoice the applicant for the return of the funds.
Questions in regards to this opportunity shall be directed to Donna.buchanan@maryland.gov 410-876- 4831.


CARES/CRF Funding Budget Request
Download and complete form here.