Mystery at Mount Hope Mansion
Begin: 4/15/2020 10:45AM
End: 4/15/2020 6:30PM
Location: Mount Hope Estate & Winery in Manheim, PA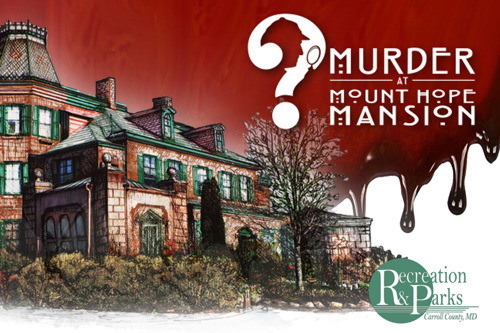 Program #19BT16

Wednesday, April 15, 2020; 10:45am-6:30pm
Departs from: Carroll County Farm Museum
Adults 21+; $80 per person
Join Carroll County Recreation & Parks on an adventurous trip to Manheim, PA to the grounds of Mount Hope Estate & Winery, home of the PA Renaissance Faire. Enter the Victorian Mount Hope Mansion, for a theatrical interactive dining experience. Meet and mingle with intriguing guests of the Mansion. After enjoying a four-course meal and tastes of the mystery that is thick in the air, assemble in the Mansion's Theater Room for a time of interrogation, hilarity and the answer to the question on everyone's mind... "who-done-it?" A cash bar is available during the event; the meal menu to be announced.
There will be time after for a short visit to the Wine Shop, where a wine tasting on your own may be available as time permits.
Registration Information
Call 410-386-2103 or walk-in at 300 S Center Street, Westminster, MD 21157 Monday-Friday, 8am-5pm; or online at Mystery at Mount Hope Mansion.
Carroll County Farm Museum | 500 S Center Street, Westminster, MD 21157
Click Here to View Program Flier
The Americans with Disabilities Act applies to the Carroll County Government and its programs, services, activities, and facilities. Anyone requiring an auxiliary aid or service for effective communication, or who has a complaint should contact The Department of Citizen Services, (410)386-3600 or 1-888-302-8978, or MD Relay 711/1-800-735-2258, as soon as possible but no later than 72 hours before the scheduled event.