Where's Parker?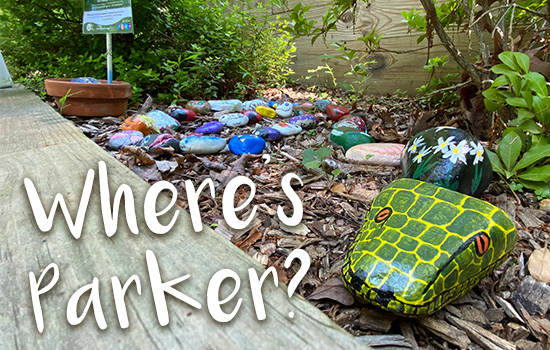 Who's Parker?
Parker is our Recreation & Parks painted rock snake who travels from park to park throughout the county. Help him grow by adding your own rock artwork to his body but please do not take rocks from him, he doesn't shed his skin.
LATEST HINT:
He loves to read our story trails!
How to Find Parker and Win Cool Stuff
Paint a small rock, write your name on the bottom (optional), visit some county parks where you think he might be hiding, and when you locate him add your rock to help him grow!  But shhhh! Don't give away his location, let others find him, too! 
Simply take a selfie with Parker, email it to Carroll County Recreation & Parks (see instructions below), and receive some cool stuff! When you send in your selfie, you will also be entered into a drawing for additional summer prizes! 
NOTE:  Parker will secretly remain at his spot for about 2 weeks.  We will then post his location on our social media pages so everyone has an opportunity to visit and add their own painted rocks and send us a selfie. Parker will then slither to a new park and you can seek him out all over again for more outdoor fun and prize opportunities!*
*Cool prizes and drawing entry will be awarded to those that find Parker BEFORE we post his location; after his location is revealed any notifications received will be entered into the summer drawing only.
Email Instructions
In the subject line write: "PARKER"
Email your selfie to ccrec@carrollcountymd.gov, include where you found him, your name, and your mailing address for fun prizes. Your name will also be entered in the summer drawing for even bigger cool prizes.