Carroll Alert: Enhanced Emergency Mass Notification System Launches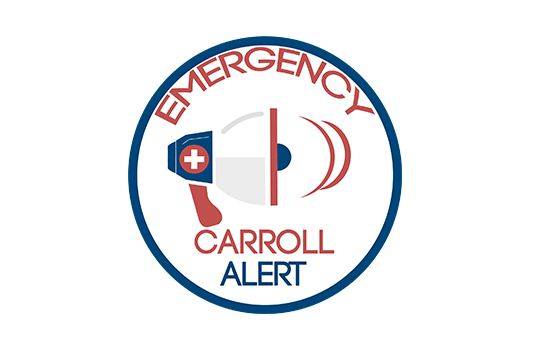 Westminster, MD, Thursday, April 25, 2019 – Today, during Open Session, the Carroll County Department of Public Safety briefed the commissioners on the launch of Carroll Alert…Carroll County's improved opt-in mass notification system.  This is an enhanced system, allowing more choice for the public and does not replace previous notification systems.  The state-of-the-art emergency system will be used in cases when significant hazards to life and property threaten the community.
With the implementation of the Carroll Alert system, Carroll County citizens will be able to receive emergency notifications in three different ways:
The traditional emergency notification system currently in place that sends messages to landline phones.
The Integrated Public Alert and Warning System (IPAWS)/Wireless Emergency Alerts (WEA) system currently in place that sends messages to cell phones. This is the system typically used for notifications such as Amber Alerts and Presidential Alerts. Modern cell phones are generally capable of receiving such messages.
Carroll Alert – the enhanced opt-in system, being introduced today, allowing citizens to receive notifications via landline phone, cell phone, email and text message.
Citizens should be aware that even if they choose not to opt-in to the Carroll Alert system they will still be able to receive emergency messages through the traditional emergency notification system and the IPAWS/WEA system in place today.
The Carroll Alert system, powered by Everbridge, provides information to residents about emergency events quickly and through a variety of communication methods. To ensure emergency notices are received efficiently, residents are encouraged to log in to the Carroll County self-registration portal and provide phone numbers for both home and work, including land and cell phone numbers, and email addresses.  Over the next several months Carroll County will use multiple marketing and outreach methods to encourage residents to register for alerts. Citizens may register now by visiting www.carrollalert.org.  All information provided in the portal will be kept strictly confidential.
Commissioner Stephen Wantz, President of the Board of Commissioners said, "Any time we can implement enhanced communication methods to inform our citizens during an emergency is a benefit to the entire community; I hope all citizens will sign up for this valuable service today."
The Open Session is available for viewing on the county meeting portal, the county YouTube channel. In addition, all meetings will be replayed on Comcast Channel 24.