Carroll County Receives 2019 Veteran Friendly Employer of the Year Award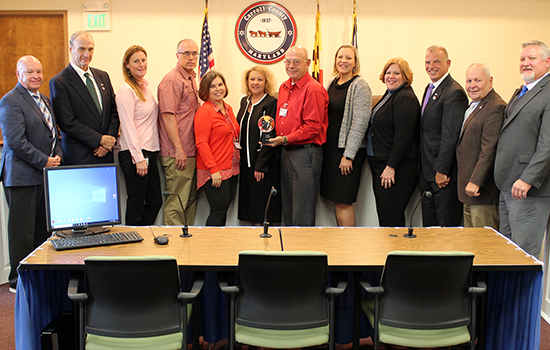 Westminster, MD, Thursday, November 14, 2019 – The Board of County Commissioners were pleased to receive the 2019 Veteran Friendly Employer of the Year from the Business Advocates for Veterans organization. The commissioners were presented with the award on November 12th during the Veterans Annual Luncheon at American Legion Post 31.
The commissioners highlighted the Veterans Services Program and its staff during Open Session today and thanked the many individuals and organizations for their commitment to Veterans.
The Veteran Friendly Employer of the Year criteria is a Carroll County employer who goes above and beyond the scope of the business to assist Veterans, support Veteran causes or actively employs and supports Veterans. 
"We are honored to be named the 2019 Carroll County Veteran Friendly Employer of the Year," Commissioner Stephen Wantz, President of the Carroll County Board of Commissioners said. "The county prioritizes the importance of Veterans services programs and we have an excellent county staff working with many non-profits and members of the community to provide an extensive array of services and the program strives for continuous improvement and outreach to Veterans."
Today's Open Session is available for viewing on the county meeting portal and county YouTube channel.  In addition, all meetings will be replayed on Comcast Channel 24.