Children's Mental Health Awareness Week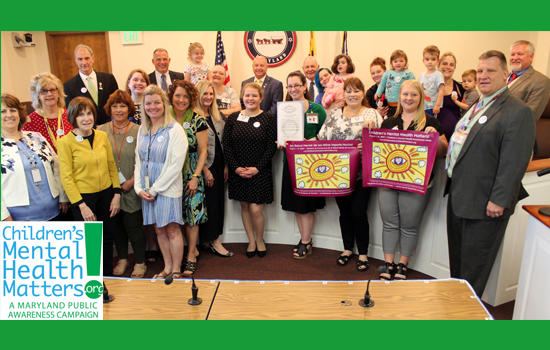 Thursday, May 2, 2019- Today, during Open Session, the Board of County Commissioners proclaimed the week of May 5 - May 11, 2019 Children's Mental Health Awareness Week in Carroll County, MD. The board urged Carroll county citizens and all agencies and organizations interested in meeting every child's behavioral health needs unite during this week because Children's Mental Health Matters.
One in five children experience a mental, emotional or behavioral health challenge before the age of 18, and a staggering 70 percent of school-aged children with a diagnosable illness do not receive treatment. Addressing the complex behavioral health (mental health and substance use) needs of children, youth and families today is fundamental to the future of Carroll County.
The Carroll County behavioral health providers, offering unique approaches to serving children, youth, young adults, and families with behavioral health concerns, are effectively caring for the needs of those within our community.
During the first full week in May 2019, Carroll County Community Champions and School Champions will be intensifying efforts to promote public understanding of children's behavioral health and decrease stigma surrounding behavioral health concerns to let parents know that they are not alone in caring for behavioral health needs.
 Find events happening in Carroll county by clicking here.