Comprehensive Rezoning to Go to Public Hearing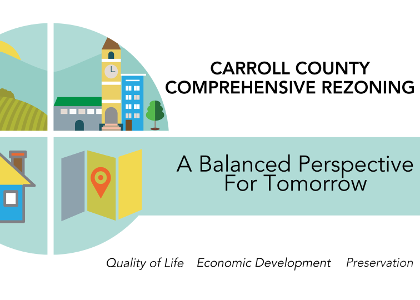 IMMEDIATE RELEASE
Contact: Lynda Eisenberg, Director or Planning
410-386-5145
Westminster, MD, Monday, September 16, 2019 – Two Public Hearings to receive citizen feedback on proposed new zoning codes and maps for the Carroll County Comprehensive Rezoning for the Commercial, Industrial and Employment Campus districts are scheduled for Thursday, October 3, 2019.
In order to accommodate more citizens and provide flexibility in scheduling, two Public Hearings are offered. Both on Thursday, October 3rd, the daytime hearing beginning at 1:00 pm and the evening beginning at 6:00 pm. Both meetings are located in Room 003 (Reagan Room) of the County Office Building, 225 N. Center Street, Westminster. Each Public Hearing will be comprised of a session on the text changes followed by a session on map changes.  Interested parties are invited to speak at one of the hearings or send written comments.
The dates and times for the Public Hearing will be advertised in the Carroll County Times, through the county's Carroll Connect digital delivery system and the county social media channels.
The proposed amendments may be reviewed and copies obtained at the Department of Planning, Carroll County Office Building, 225 North Center Street, Room 106, Westminster, Maryland, 21157, during normal business hours.  The proposed amendments will also be available on the county website, www.carrollcountymd.gov as well as the Department of Planning's website, www.carrollrezoning.org.
Any citizen unable to attend the Public Hearing is encouraged to send written comments to the Department of Planning, 225 North Center Street, Room 106, Westminster, Maryland, 21157 or ccplanning@carrollcountymd.gov and will be considered if received within 10 calendar days after the close of the hearing.  Questions should be addressed to the Department of Planning at ccplanning@carrollcountymd.gov or 410-386-5145.
Following the public hearing, the record will be left open for 10 days for further comments. After the 10 days, the commissioners will review all comments, then schedule a discussion and vote on the adoption of the new text and maps. 
Please check the Carroll County Government meeting calendar website or call the County Commissioners' Office at 410-386-2043 for any updates.  The Public Hearings will be available for viewing on the county meeting portal. In addition, all meetings will be replayed on Comcast Channel 24.