County Commissioners Honor Recreation & Parks Volunteers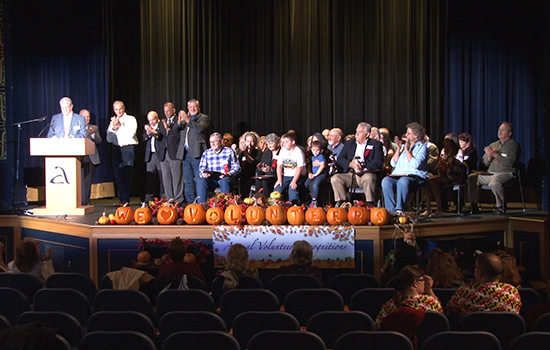 Westminster, MD, Wednesday, November 6, 2019 – Carroll County Commissioners Stephen Wantz, Ed Rothstein, Richard Weaver, Eric Bouchat and Dennis Frazier joined the Department of Recreation & Parks in honoring the 2019 Volunteers of the Year and Hall of Fame inductees on Tuesday, November 5, 2019 at the Carroll Arts Center.
The night began with a warm welcome from Bureau Chief of Recreation, Lisa Carroll, thanking the volunteers, their families and friends for attending to honor the award winners and new inductees into the Volunteer Hall of Fame. Exiting Chair of the Recreation & Parks Advisory Board Judy Baker also welcomed the volunteers, giving thanks for their time and dedication to the community, followed up with an introduction for the night given by the Director of Recreation & Parks Jeff Degitz.
The Department of Recreation & Parks has over 8,000 jobs filled by volunteers who coach teams, serve the community, clean up parks, volunteer at our nature centers and more!
The County Commissioners each spoke, thanking volunteers and staff for the time, energy and commitment they have for the community.
Volunteers were nominated by local recreation councils for their service to the community. Examples and details of the winner's selfless acts of kindness and support for their communities were highlighted throughout the evening.
County Commissioners greeted and presented each winner with their Volunteer of the Year Award.
Winners of the 2019 Volunteer of the Year Awards:
Kate Grimsley – Adaptive Recreation Council
Dale & Linda Brown – Carroll County Arts Council
Mark O. Schmidt – Carroll County Equestrian Council
Sheldon Topolsky – Central Carroll Recreation Council
Paul Moffett – Charles Carroll Recreation Council 2019
Carroll County Cloggers – Department of Recreation & Parks 
Steve Berry – Freedom Area Recreation Council
Daryl Divizio – Friends of Bennett Cerf Dog Park
Emmalea Allard – Friends of Hashawha/Bear Branch
Teri Leatherwood – North Carroll Recreation Council
Linda Coyne – Piney Run Recreation & Conservation Council
Lorraine Riley;, Annette Lange; Darlene Rohrbaugh; Cori Brown – Seniors in Action
Brad Rockwood – West Carroll Recreation Council
Doug & Pam Goodson – Westminster Area Recreation Council
Kris Thompson – Westminster Area Recreation Council
Crystal Wolfrey – Winfield Recreation Council
Scott Nelson – Woodbine Recreation Council
For the third year, the department also inducted new members into the Volunteer Hall of Fame for outstanding service over at least 20 years.
Director Jeff Degitz spoke to the many years of service and significant contributions each inductee made to Carroll County as a whole.
2019 Volunteer Hall of Fame Inductees:
Cathy Bowman Buckingham
Gary Davis
Henry Lysy
Donald "Bo" Yingling
Joseph Zentgraf
To learn how you can make a difference in your community and volunteer with the Department of Recreation & Parks, email ccrec@carrollcountymd.gov.