Future Fire Service Structure Ordinance Moves to Public Hearing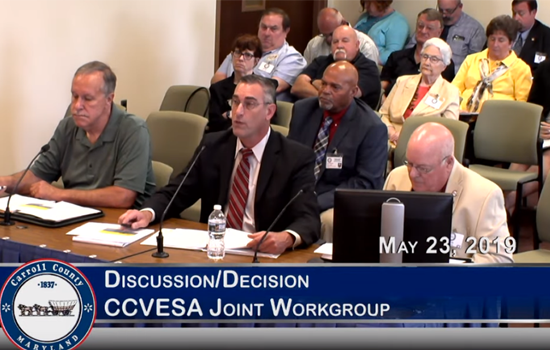 FOR IMMEDIATE RELEASE:
Contact: Chris Winebrenner
410-386-2043
Future Fire Service Structure Ordinance Moves to Public Hearing
Westminster, MD, Thursday, May 23, 2019 – Today, the Carroll County Board of Commissioners (BOC) voted unanimously to move a proposed code provision change regarding the county fire service structure to public hearing.
The workgroup of the Carroll County Volunteer Emergency Services Association (CCVESA), charged with crafting a recommended path for the transition to a countywide combination fire service system, presented an update to the Board of County Commissioners during Open Session.  Workgroup member Tim Brown, made the presentation to the commissioners.
The workgroup, consisting of CCVESA representatives supported by county staff, worked for two years to look at the future organization of fire, rescue, and emergency medical services in Carroll County to address current issues while maintaining and growing the volunteer system.
Today's presentation discussed three fundamental documents designed to ensure the future success of the county's emergency services and discussed possible future steps for the implementation of an efficient combination emergency services system.  The three draft documents include an addition to the County Code, as well as the Charter and Bylaws for a proposed new Emergency Services Advisory Council (ESAC).
The BOC directed staff to convert the proposed code amendment into legislative form and have a Public Hearing; at the same time, include two other discussion items, the bylaws and ESAC charter documents. The Public Hearing will be advertised and promoted to the community as soon as scheduling information is available.
Open session will be available for viewing on the county meeting portal and YouTube channel. In addition, all meetings will be replayed on Comcast Channel 24.