FY20 Proposed Budget Shows No Increase in Taxes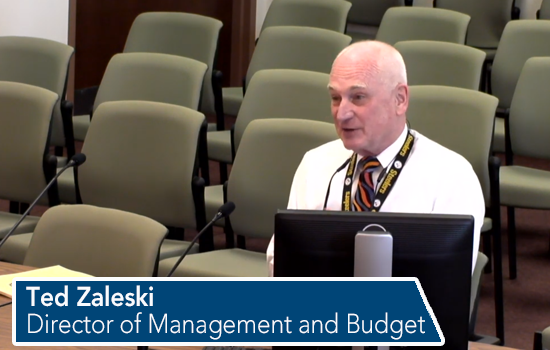 FOR IMMEDIATE RELEASE
Contact: Chris Winebrenner
410-386-2043
Westminster, MD, Tuesday, April 30, 2019 –Today, during Open Session, the Department of Management and Budget met with the Board of County Commissioners to release the FY2020 Proposed Budget and the Fiscal Year 2020 to 2025 Recommended Budget Plans. The commissioners discussed the difficulty in balancing this year's budget, the emphasis on the large percentage of non-discretionary, state-dictated funding and their satisfaction in not increasing taxes.  The budget is available on the county's website at carrollcountymd.gov.  
Next, Management and Budget Director Ted Zaleski will discuss the proposed budget during several scheduled meetings in the community culminating in a Public Hearing on May 13th.  After the hearing, the commissioners may hold two work sessions making changes to the budget before planned adoption on May 28th.
Below is the list of meetings as they are currently scheduled:
Budget Community Meetings
Wednesday, May 1   7:00 pm                      Eldersburg Library
Thursday, May 2       7:00 pm                      Mount Airy Library
Monday, May 6         7:00 pm                      Westminster Library
Tuesday, May 7         7:00 pm                      Taneytown Library
Wednesday, May 8   7:00 pm                      North Carroll Library
Budget Public Hearing
Monday, May 13       7:00 pm                     Carroll Community College, Scott Center Auditorium
Budget Work Session
Tuesday, May 21       1:30 am-12:30 pm    County Office Building, Rm. 311
Thursday, May 23     1:00-4:00 pm             County Office Building, Rm. 311
Budget Adoption
Tuesday, May 28       10:00-10:30 am        County Office Building, Rm. 311
Meeting times and places are subject to change, so please check the county website or call 410-386-2400 to confirm.
The presentation is available for public viewing and today's Open Session is available for viewing on the county meeting portal and YouTube channel. In addition, all meetings will be replayed on Comcast Channel 24.