GET YOUR COPY NOW 2019! CELEBRATING AMERICA SUMMER ADVENTURE PASSPORT & TRAVEL GUIDE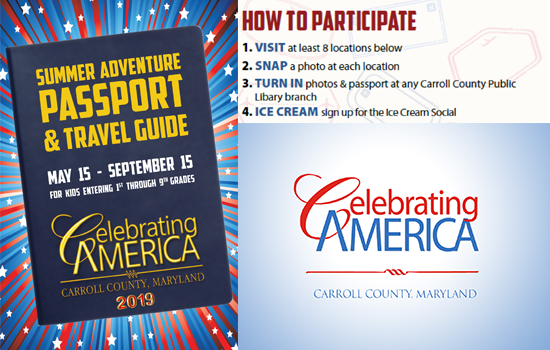 Westminster, MD, May 22, 2019 – On May 15, 2019, the Celebrating America Summer Adventure program began for kids entering 1st through 9th grades.  To request a copy of the Summer Adventure Passport and Travel Guide, contact Vivian Daly at vdaly@carrollcountymd.gov or 410-386-2043.  We are thrilled to add new eligible locations and prize sponsors for 2019!
Completing the adventure is as easy as 1, 2, 3!
Between May 15th and September 15th visit at least 8 eligible locations.
Snap a photo of yourself at each location to show you visited.
Take your photos to any Carroll County Public Library for verification.
Verified participants are invited to an ice cream social and prize giveaway in October.  The grand prize is a laptop donated by the Carroll Technology Council, Inc.  Additional prizes from our generous sponsors include:  books from Carroll County Public Library, seasonal passes for the Union Mills Homestead & Grist Mill, 1 year family passes and 1 week of summer camp to the Carroll County Farm Museum, prize packages from Carroll County Recreation and Parks, Carroll County Office of Tourism, Boys and Girls Club of Westminster, Historical Society of Mt. Airy, event tickets from Carroll Arts Center and a $50 cash prize from the 29th Division Association, Inc.
Celebrating America is a history initiative created by the Board of County Commissioners to promote a greater understanding of American history and historically significant people, events and places particularly those within Carroll County.  Visit https://www.carrollcountymd.gov/visitors/celebrating-america-in-carroll-county-md/ for more information or "like" the Celebrating America Facebook page for daily posts about historically significant topics and local events.