Holiday Lighting Ceremony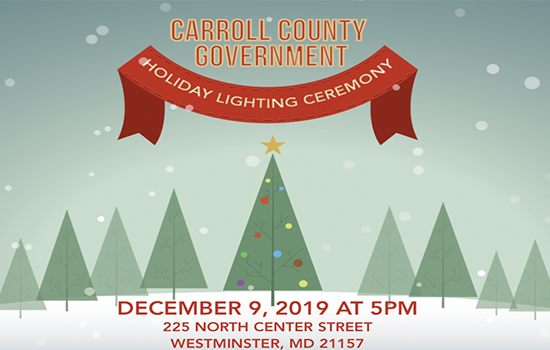 Westminster, MD, Monday, December 2, 2019 - The Carroll County Board of Commissioners invites you to attend the Holiday Lighting Ceremony, which will be held on Monday, December 9th at 5pm. The ceremony will take place in front of the Carroll County Office Building located at 225 North Center Street in Westminster.
The ceremony will begin at 5pm with a brief welcome by the Commissioners followed by holiday songs performed by live entertainment and light refreshments. This year, the two evergreen trees used in the ceremony were donated by the Hirt Tree Farm and Clyde, Cindy, Matt and Claire Hirt.
The ceremony, hosted by the Commissioners, is made possible through donations and the hard work and dedication of many county employees.
Please join the Commissioners as they usher in this festive season.