Koons Toyota Donates To Carroll County Senior and Community Centers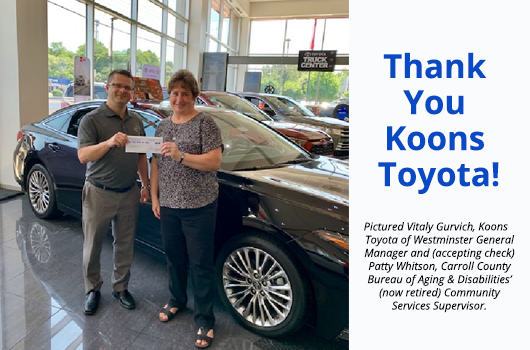 IMMEDIATE RELEASE
For more information, contact
Carroll County Bureau of Aging & Disabilities
410-386-3800
Westminster, Tuesday, August 13, 2019 –On Monday, August 12, 2019, Mr. Vitaly Gurvich, General Manager of Koons Toyota of Westminster, presented a donation to the Carroll County Bureau of Aging & Disabilities.
This donation will be used to support the various health and wellness classes at the 5 Carroll County Senior and Community Centers.  Koons' support of the Senior and Community Centers' is important to the health and well-being of older adults in our county.
Carroll County extends heartfelt thanks to Koons Toyota for this generous gift.  Without the support of our local community, many programs and opportunities currently provided around the county would not be possible.  It is this spirit of community interest and support that makes Carroll County a wonderful place to work and live. 
Thank you.