National Public Safety Telecommunicators Week
Thursday, April 11, 2019- Today, the Board of Carroll County Commissioner proclaimed the week of April 14 to April 20, 2019, as National Public Safety Telecommunicators Week in honor of the men and women whose diligence and professionalism keep our county and citizens safe.
Public safety telecommunicators are the first and most critical contact our citizens have with emergency services. They are the single vital link for our police officers and firefighters by monitoring their activities by radio, providing them information and ensuring their safety.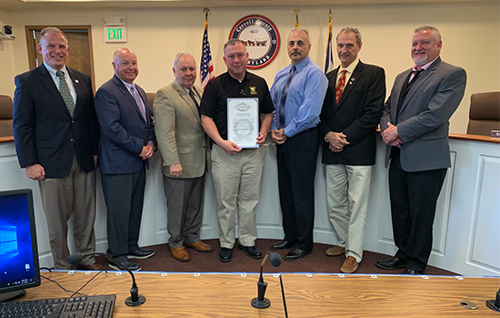 From Left to Right: Commissioner Ed Rothstein, Commissioner Stephen Wantz, Commissioner Richard Weaver,
Jack Brown, Public Safety Director Scott Campbell, Commissioner Dennis Frazier, and Commissioner Eric Bouchat.