Regional Transportation Plan Public Meeting June 6th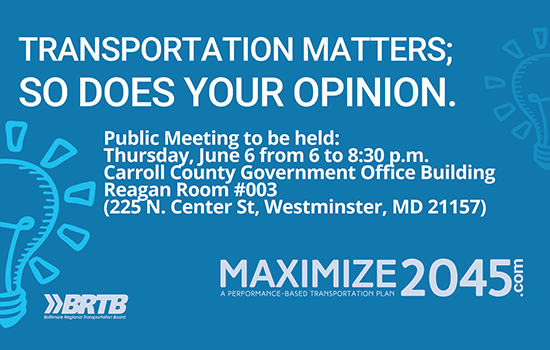 FOR IMMEDIATE RELEASE
Contact: Lynda Eisenberg, Director, Department of Planning
410-386-5145
Westminster, MD, Thursday, May 16, 2019 –  On June 6, 2019 at 6:00 PM, the Baltimore Metropolitan Council's (BMC) Baltimore Regional Transportation Board (BRTB) will host a public meeting in Westminster seeking public comment on the regional transportation plan: Maximize2045:  A Performance-Based Transportation Plan. The meeting will be held in Room 003 of the Carroll County Office Building, 225 N. Center Street, Westminster.
Attendees have the chance to help shape the future by sharing thoughts on $15 billion in key transportation projects planned for the region over the next 25 years. Over 200 projects are part of two transportation plans open for public comment through June 18. Citizens are encouraged to attend and provide feedback on plans to invest in the future of transportation. The BRTB expects to adopt Maximize2045 in July 2019.
Citizens can send comments on Twitter to @BaltoMetroCo and @BmoreInvolved using the hashtag #BRTBlistens.  Also, comments are accepted via the BMC online comment form at bit.ly/BRTBlistens, email comments@baltometro.org, and by mail to the Baltimore Metropolitan Council.  
For more information and to view the regional transportation plan, please visit maximize2045.com.