September is Emergency Preparedness Month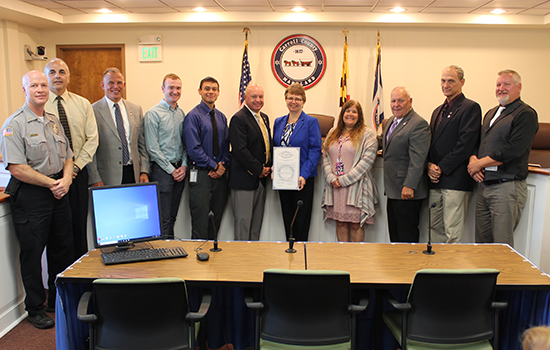 IMMEDIATE RELEASE
Contact: Valerie Hawkins, Emergency Management Manager
410-386-2592
Westminster, MD, Friday, August 30, 2019 – Yesterday, the Carroll County Board of Commissioners proclaimed September as Carroll County Preparedness Month.  September is also Maryland Preparedness Month and National Preparedness Month, and government agencies, businesses, community groups, schools and families will all be participating in events to help promote disaster preparedness.
The theme for this year's Preparedness Month is "Prepared, Not Scared." Throughout the month of September, individuals and families in Carroll County are encouraged to create an emergency supplies kit, develop an emergency communications plan, and learn more about what kinds of hazards might affect our area. Making preparations when threats are not imminent can make communities more resilient when disasters do occur.
Hazards common to Carroll County include flooding, high winds, severe thunderstorms and winter storms. The Atlantic hurricane season runs through November each year, and the area can experience effects from tropical weather throughout the fall months.
"If you don't think it can happen here, you need to think again. Disasters can happen at any time, and it is never too early to prepare for an emergency," County Commissioner President Stephen Wantz noted. "I encourage all Carroll County residents to take steps now so they are ready should a disaster or emergency threaten the area."
Several online sources providing good emergency preparedness information include:
Additional information can also be found in the Are You Ready? Citizen's Guide to Emergency Preparedness ,and on the Carroll County Emergency Management website.
Open session is available for viewing on the county meeting portal and the county YouTube channel. In addition, all meetings will be replayed on Comcast Channel 24.