Shredding Events at Senior & Community Centers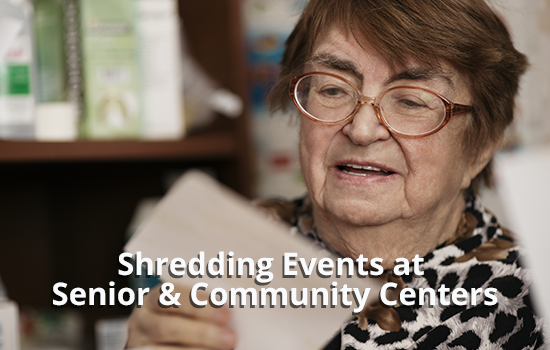 Westminster, MD, Wednesday, May 8, 2019 - The Carroll County Bureau of Aging & Disabilities is sponsoring shredding events at four Senior & Community Centers. The events are free and are open to older adults 60+ years of age and adults with disabilities 18+ years of age. No businesses, please. The shredding services will be completed by The Shred Mill, a document destruction and recycling company based in Sykesville. The Shred Mill will shred the following items on site at each event: paper documents, bound books, spiral and plastic bindings, X-rays and CDs. There is no need to remove staples or paper clips.
Please see below for shredding locations and times.
Westminster Senior & Community Center
125 Stoner Avenue
Westminster, MD 21157
410-386-3800
Monday, May 13th – 9 AM to 11 AM

South Carroll Senior & Community Center
5928 Mineral Hill Road
Eldersburg, MD 21784
410-386-3700
Tuesday, May 14th – 9 AM to 11 AM
Mount Airy Senior & Community Center
703 Ridge Avenue
Mt. Airy, MD 21771
410-795-1017
Monday, May 20th - 9 AM to 11 AM
North Carroll Senior & Community Center
2328 Hanover Pike
Hampstead, MD 21074
410-386-3900
Thursday, May 30th – 9 AM to 11 AM