Stormwater Workshop to be Held for Hampstead and Manchester Residents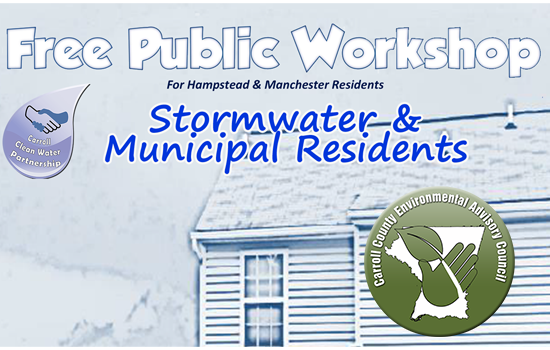 FOR IMMEDIATE RELEASE
For more information, contact:
Brenda Dinne
410-386-2140
Environmental Advisory Council
Westminster, MD, Thursday, August 29, 2019 – The Carroll County Environmental Advisory Council (EAC) is partnering with the Carroll County Water Resource Coordination Council and county and municipal staff to host a free public workshop on Saturday, September 7, 2019.  The workshop is meant to provide residents within the Towns of Hampstead and Manchester with information on how to prevent stormwater pollution and minimize stormwater runoff from their properties.
Experts will be available to provide helpful materials and answers to individual questions on topics such as homeowner best management practices, residential car care, and washing, swimming pool water discharge, stormwater projects in the area – current and future, and more.
The Environmental Advisory Council and staff of the Bureau of Resource Management will be on hand to provide information on their functions and publications as well.  Other organizations have been invited to participate in also. 
More details and information on the Stormwater Workshop for Municipal Homeowners (Hampstead & Manchester) can be found by clicking here.  No registration is necessary.  The workshop will be held from 9:00 AM to 11:30 AM at the North Carroll Senior and Community Center, located at 2328 Hanover Pike in the North Carroll Shopping Plaza in Hampstead (in front of Walmart).  Come for the entire time or just drop-in to talk to the expert(s).