Commissioners Update on MACo Conference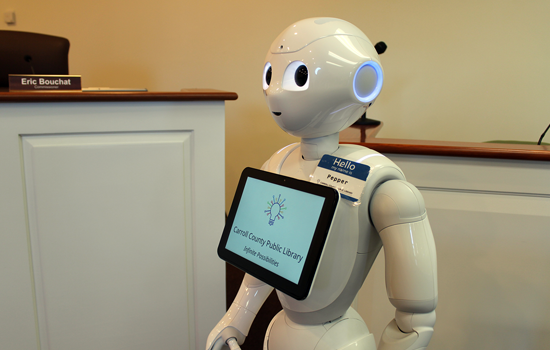 IMMEDIATE RELEASE
Contact: Chris Winebrenner
410-386-2043
Westminster, MD, Friday, August 23, 2019 - Today, during Open Session, the Carroll County Board of Commissioners (BOC) reported their attendance at the Maryland Association of County's (MACo) summer conference. Each commissioner gave a brief overview of their experience at the conference.
Pepper, Carroll County Public Library's (CCPL) four-foot tall social humanoid robot, made a surprise appearance at today's open session and provided a demonstration of its abilities. Pepper is a teaching tool to introduce the community to practical applications for robots and artificial intelligence and advances CCPL's goal to connect the community to the potential of current and emerging technologies. Pepper helped Carroll County Public Library win a best booth award at MACo. Pepper was funded by a Library Services and Technology Act Grant from the Maryland State Library and Institute of Museum and Library Services.
Last week, hundreds of county government officials join countless policymakers and service providers at the annual MACo Summer Conference in Worcester County. Conference attendees focused on the changes being seen at every level of government and constituent services and how counties are harnessing that momentum for the good of all Marylanders. The theme of the conference was "Winds of Change." Covering subjects from the digital revolution of service delivery and communication to threats to public safety, topics also included economic trends, climate change, land use, millennials in the workforce, and education, among many others.
Commissioner Stephen Wantz, Board President said, "MACo's summer conference is an excellent opportunity to learn from attending sessions, interact with other Maryland counterparts and have extremely productive meetings with Maryland department secretaries and staff; it is one of the best events to get our initiatives accomplished."
Open session is available for viewing on the county meeting portal. In addition, all meetings will be replayed on Comcast Channel 24.