Credit Rating and Bond Sale Bring Positive Financial News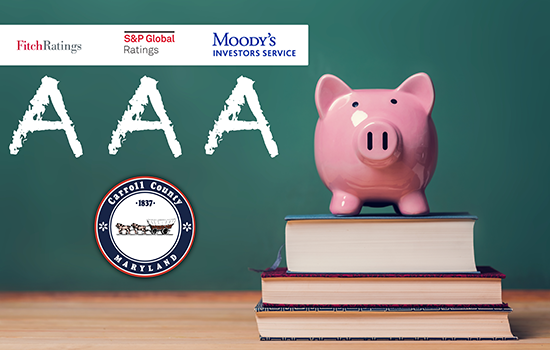 Westminster, MD, Thursday, October 17, 2019 – Due to the reaffirmation of three triple A ratings from the three major financial rating agencies, Carroll County received a historically low interest rate during today's bond sale which results in over $5 million in gross savings. A total of $70 million in new bonds were sold by the county, including $30 million for new issues dedicated to various infrastructure and other capital investments, and $40 million to refinance existing debt at lower rates.
County Comptroller Robert Burk led today's presentation to the Board of Commissioners. New bonds were sold at the low interest rate of 2.19%. The interest rate on refinanced debt, 1.39% for tax-exempt and 2.27% for taxable bonds, will save the county over $5 million in gross savings. This savings will translate to the freeing of approximately $500,000 each year for 10 years.
Last week, the county received confirmation from all three credit rating agencies that the AAA ratings, achieved last year, are re-affirmed with a stable outlook, with S&P noting, "We anticipate Carroll County will maintain its strong flexibility and strong budgetary performance. The county's very strong management policies, as evidenced by its robust future financial planning and its integrated capital plan, allow it to respond to changes in revenues and expenditures annually." Fitch indicated the rating reflects, "the county's broad resource base, strong growth prospects, ample reserves, and robust financial resiliency." Moody's cited, "The Aaa rating is based on the ongoing expansion of the county's large tax base and growing revenue streams, resulting in a consistently healthy and stable financial position."
"We are thrilled to receive the triple AAA credit rating again which helped result in such extraordinary low interest rates on our bond sale," said Board of County Commissioner President Stephen Wantz, "Our strong financial position, balanced financial management and strong fiscal planning is critically important as it is reflected in the positive credit rating and ultimately saves the county millions of dollars."
Open session is available for viewing on the county meeting portal and the county YouTube channel. In addition, all meetings will be replayed on Comcast Channel 24.
2019 Rating Reports