BMC Installs Commissioner Stephen Wantz As Vice-Chair; Launches 2020 Census Campaign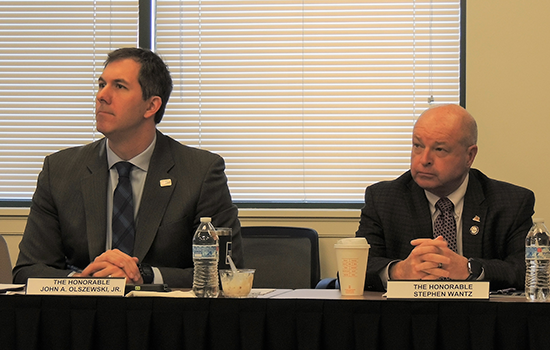 The Baltimore Metropolitan Council (BMC) board of directors voted to install Baltimore County Executive Johnny Olszewski, Jr. as its 2020 chair at its meeting on Friday, January 17th. Carroll County Commission President Stephen Wantz was selected to serve as Vice-Chair. This meeting also marked the launch of BMC's regional marketing campaign for the 2020 Census, aimed at reaching hard-to-count populations in greater Baltimore.
BMC worked with participating counties to coordinate a campaign aimed at encouraging residents of greater Baltimore to get counted in the upcoming Census. The campaign targets populations that the U.S. Census Bureau defines as "hard-to-count," including renters, seniors, low-income, parents of young children, and limited-English speakers.
"The Census plays a significant role in how federal funds are allocated to our counties and our region, which is why it is so important for everyone to be counted," said Baltimore County Executive Johnny Olszewski, Jr. "I am proud to serve as 2020 chair of the BMC and I'm proud of Baltimore County for engaging our county partners across the region to bring this campaign together."
Campaign ads will describe why the Census is important, including its impact on federal funding for education, transportation, economic development, healthcare and other essential programs.
The following six jurisdictions participated in the campaign: Baltimore County, Baltimore City, Harford County, Howard County, Anne Arundel County and Carroll County.
"This marketing campaign is an example of local governments maximizing resources to make a regional impact," said BMC Executive Director Mike Kelly. "I want to thank our Chair, County Executive Olszewski, for making this a priority."
The regional 2020 Census radio ads will run on WERQ-FM 92.3, WLIF-HD2 106.1, WOLB-AM 1010, WWIN-FM 95.9, WLIF-FM 101.9, HFS-FM 104.9, WJZ-AM 1300, WCAO-AM 600, WLZL-FM 107.9 and Ke Pachanga radio stations. The campaign will air from Wednesday, January 15th through Sunday, June 14th. Messages will encourage listeners to visit census.maryland.gov for more information.
"As the liaison to the U.S. Census Bureau, the Maryland Department of Planning (Planning) supports collaboration and partnerships at every level with the goal of counting every person in Maryland in the 2020 Census," said Planning Secretary Robert McCord. "The Census is a family portrait we take every ten years and we need to show what Maryland really looks like by having everyone in the picture."
The campaign is financed in part with State funds from Maryland's 2020 Census Grant Program.