Carroll County Government Building Restrictions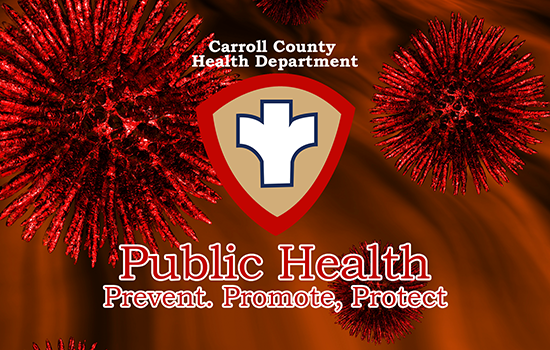 Westminster, MD, Saturday, March 14, 2020 – At a press conference yesterday, Board of Carroll County Commissioners' President Stephen Wantz made important announcements regarding a Local State of Emergency declaration in Carroll County as well as disclosing new restrictions for Carroll County Government buildings.  All actions are precautionary to prevent the spread of the Coronavirus (COVID-19).
Effective immediately, a Local State of Emergency has been declared for Carroll County, running parallel with the State, allowing Board President Stephen Wantz to provide one voice in making decisions. Although the authority is given to the president, Commissioner Wantz indicated he will work closely with all commissioners. Having one voice will allow for a more streamlined process for making decisions in the county regarding the rapidly evolving COVID-19 health crisis. The declaration will remain in effect for the duration of the State's State of Emergency.
Also, effective immediately and until further notice, Carroll County Government will implement the following building restrictions:
Visitor access to all county office buildings (County Office Building (COB), BERC Building, Maintenance Center, Robert Moton Center, Bureau of Aging and Bureau of Housing) is by appointment only.  Signs are posted at all entrances. This includes deliveries.
Visitors destined for the Collections Office do not require an appointment; however, customers paying taxes are encouraged to use county drop boxes. Receipts will be mailed.
Any residents needing to visit any county office building should call the county main phone number at 410-386-2400 for referral to the appropriate department to receive more information or to schedule an appointment. A directory of departments with phone numbers is also available on the county website.
All visitors or those seeking appointments will be asked the following questions on the phone or prior to going beyond the COB Information Desk area:
Are you or others you have had close contact with, suspected of having coronavirus (COVID-19)?
Have you recently traveled to or from another country?
Do you have any of the following symptoms?

Fever
Cough
Shortness of breath

Carroll County's 5 senior centers remain closed.
All county meetings are cancelled unless attendees are notified by county staff. Teleconferencing will be used when possible. Any exceptions to this protocol will be communicated by the managing department.
Questions concerning Planning Commission and Board of Zoning Appeals should be directed to the respective departments for instructions prior to scheduled meetings or hearings.
All Carroll County Recreation & Parks sponsored programs and events including all recreation council activities are canceled through March 30, regardless of their location. All county parks will remain open during regular hours, sunrise to sunset.
Carroll County Board of Commissioner Open Sessions will continue and will be live-streamed for public viewing. There will be no access to Open Sessions except by appointment 410-386-2043.
Other activities and events may be cancelled, contact the sponsor or check the website prior to visiting.
Updates and changes to the building and park access may occur at any time, all visitors are recommended to contact the department they plan to visit or the main county office building for updates prior to arriving.
Accurate COVID-19 information is critical to the community. For the most current and accurate information about the situation, please refer to the following:
Carroll County Health Department (CCHD):           https://cchd.maryland.gov/covid-19/
Maryland Department of Health (MDH):     https://health.maryland.gov/pages/home.aspx
Centers for Disease Control (CDC):             https://www.cdc.gov/coronavirus/2019-ncov/index.html
Anyone feeling ill should contact their health care professional. CCHD is now operating a hotline, available 8 am – 5 pm at 410-876-4848 during weekdays. After hours, callers may leave a message or call 2-1-1. All emergencies should continue to call 9-1-1.
# # #