Carroll County Health Department Invites Applications for Coronavirus Aid, Relief, and Economic Security (CARES) Act Reimbursement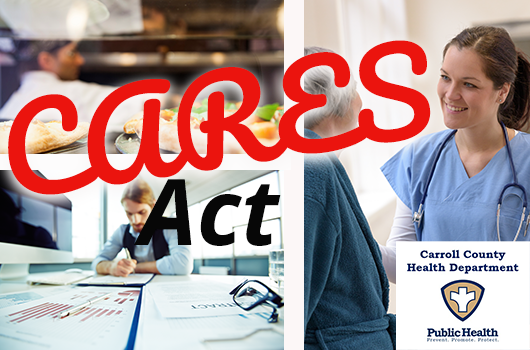 Westminster, Maryland, May 27, 2020 – The Carroll County Health Department (CCHD) invites Carroll County organizations to apply for reimbursement of expenses procured while fighting the COVID-19 pandemic. 
The federal government passed the Coronavirus Aid, Relief, and Economic Security (CARES) Act to support COVID-19 response and recovery efforts. The CARES Act provides for payments to state, local, and tribal governments through the Coronavirus Relief Fund (CRF), to mitigate the impact of the COVID-19 outbreak. Carroll County, through the Carroll County Health Department, has received a CRF allocation and will work together with the Carroll County Government to process and approve funding applications.
CRF funds allow reimbursement for specific, approved expenditures by local agencies, non-profits, long-term care facilities, and businesses. The grant will reimburse medical and public health expenditures and projected expenditures related to COVID-19 for the period March 1 - December 30, 2020 and includes any unbudgeted expenses to prevent the spread of COVID-19. Examples of eligible expenditures include testing, emergency medical response, staffing, temporary medical facilities, telemedicine capacity, and medical and protective supplies. Expenditures must not be accounted for or reimbursed by another budget or funding source. Highest priorities are related to Governor Hogan's Roadmap to Recovery plan and include personal protective equipment, expanded testing capacity for COVID-19, and contact tracing; secondary priorities to prevent and control the spread of COVID-19 and tertiary priorities related to direct patient care costs will also be considered.
Applicants must submit documentation to the Carroll County Health Department to request reimbursement for COVID-19 response-related expenses. The minimum request is $1000.  All applications will be reviewed and approved by a local committee, with precedence given to applicants who meet the established priorities. 
The CCHD may only process reimbursement when actual expenses are incurred.  However, when the application is approved by the committee, the CCHD will place a hold on those funds to allow for reimbursement when the expenditures are incurred. 
The application process requires the submission of the following:
A budget plan (using template provided) for the expenditures already incurred and expected future expenditures
The CARES Act CRF Fund Reimbursement Request form
A reimbursement agreement will be executed for all requests over $50,000.
For additional information and application documents, please visit https://carrollcountymd.gov/caresact
Submit application, documentation and invoices to:
Carroll County Health Department
Attn:  Accounts Payable/CARES
290 S. Center Street
Westminster, MD 21157
Funding applications may be submitted until approved funding is depleted.
If you have any questions about this funding opportunity, please contact Donna Buchanan, Fiscal Account Technician Supervisor, at the Carroll County Health Department, at  donna.buchanan@maryland.gov or 410-876-4831.