County 9/11 Memorial Ceremony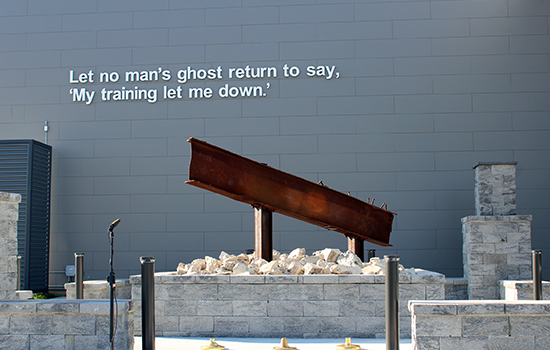 Westminster, MD, Wednesday, September 9, 2020 – On Friday, September 11, 2020, county representatives will gather at the Carroll County Public Safety Training Center 9/11 Memorial at 9:00 a.m. to commemorate the anniversary of the catastrophic September 11, 2001 attacks. Due to the ongoing COVID-19 pandemic and in keeping with continued efforts to mitigate the spread of the virus, the memorial service will be small with a limited number of participants. Those interested in the event are strongly encouraged to refrain from attending and instead watch the recording at a later time.
The brief service will include remarks by County Commissioner President Stephen Wantz, Commissioner Vice President Ed Rothstein (Colonel, Retired), Carroll County Sheriff James DeWees, and Director of Carroll County Department of Fire & Emergency Medical Services Bob McCoy, Jr. Master of Ceremonies will be Deputy Director of Public Works Douglas Brown with an invocation and benediction from Liturgical Deacon Charles E. Barnhart, Jr., Keysville Evangelical Lutheran Church.
"We want to hold an event where we pause to remember and honor the victims of that day," said Commissioner Wantz. "Even as we are challenged by our current situation with the coronavirus health crisis, it is important to stop and dedicate our thoughts and prayers to those lives lost on September 11, 2001 and their families."
Watch Now: