County Press Conference on COVID-19 Situation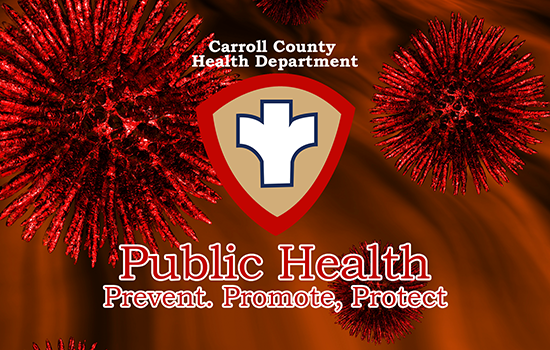 Westminster, MD, Friday, March 13, 2020 – Carroll County Board of Commissioner Stephen Wantz and Carroll County Health Officer Ed Singer will hold a press conference today regarding the COVID-19 (coronavirus) situation in Carroll County. Although there are no positive cases in the county, the number of cases is increasing in Maryland and across the United States. With the first case of community spread detected in Maryland this week, county leaders want to provide as much information to the public to increase understanding and awareness.
"Carroll County wants to be proactive in sharing information with our residents and takes this step to bring our knowledgeable subject matter leaders together to present an up to date report on the county's situation and relay preventative measures we can all take to help slow the spread of COVID-19, protect our vulnerable populations and maintain critical county services and operations."
The press conference will be live-streamed at: https://youtu.be/kd0ms8OVSbM
WHO: Stephen Wantz, President, Carroll County Commissioners
Ed Singer, Health Officer, Carroll County Health Department
Jim DeWees, Carroll County Sheriff
Brian DeLeonardo, Carroll County State's Attorney
Dr. Steve Lockard, Superintendent of Carroll County Public Schools
Mark Olszyk, M.D., Chief Medical Officer and Vice President of Medical Affairs at Carroll Hospital
Tom Jeffers, Corporate Director of Emergency Management for LifeBridge Health
Dr. Henry Taylor, Deputy Health Officer and Medical Director
Dr. James D. Ball, President, Carroll Community College
Roberta Windham, County Administrator, Carroll County
Valerie Hawkins, Carroll County Emergency Manager
Scott Campbell, Director, Public Safety
Celene Steckel, Director, Citizen Services
WHEN:            Friday, March 13, 2020 3:00 p.m.  
WHERE:          Carroll County Office Building Room 003
225 N. Center Street
Westminster, MD 21157
Accurate COVID-19 information is critical to the community. For the most current and accurate information about the situation, please refer to the following:
Carroll County Health Department (CCHD):           https://cchd.maryland.gov/covid-19/
Maryland Department of Health (MDH):     https://health.maryland.gov/pages/home.aspx
Centers for Disease Control (CDC):             https://www.cdc.gov/coronavirus/2019-ncov/index.html
Anyone feeling ill should contact their health care professional. CCHD is now operating a hotline, available 8 am – 5 pm at 410-876-4848. After hours, callers may leave a message or call 2-1-1. All emergencies should continue to call 9-1-1.