County Veterans Services Program Wins Innovation Award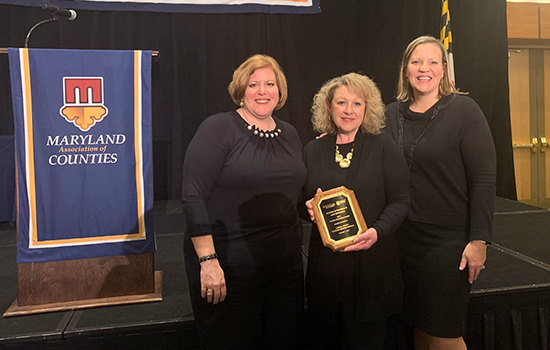 Westminster, MD, Monday, December 9, 2019 -   The Carroll County Board of Commissioners is proud to announce that the Carroll County's Veterans Services Program (VSP) received the 2019 Academy for Excellence in Local Governance County Innovation Award. County staff from the Department of Citizen Services and the Bureau of Aging and Disabilities proudly accepted the award last week at the Winter Maryland Association of Counties Academy for Excellence in Local Governance award ceremony, held in Cambridge, Maryland.
The County Innovation Award was established to recognize superb and leading-edge county programs that improve overall quality of life and service delivery for a county's residents.  Carroll County VSP provides an innovative set of comprehensive services to meet the unique needs and improve the quality of life for Veterans and their families.
Carroll County's Veterans Services Program began in October 2013 when the Board of Carroll County Commissioners identified Veterans as a priority population with complex needs and challenges. The program, with public and private funding, served over 800 veterans and recouped over 19 million dollars in veteran benefits. Since its inception, VSP continuously reexamines and reassesses its operations to evolve and improve services and service delivery, consistently adding value to ensure Veterans are honored and celebrated in life.
"Carroll County is considered a model program for the state," said Board President Stephen Wantz.  "We are honored to receive this recognition and celebrate the county's success in assisting the men and women who served our country."