Liberty Water Storage Tank Repainting and Rehabilitation Project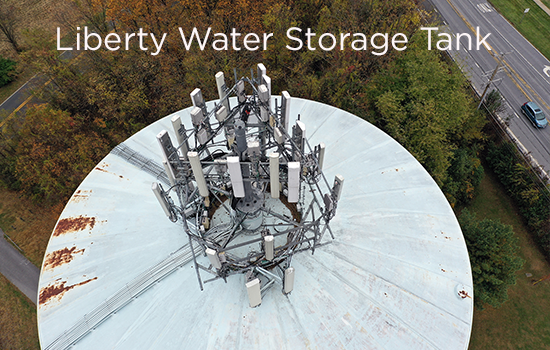 Westminster, MD, Tuesday, June 30, 2020 – The Bureau of Utilities would like to advise the Freedom District water service system users that work for the 1.0 million gallon Liberty Water Storage Tank Repainting and Rehabilitation Project is scheduled to begin on Monday, July 6, 2020.
The Liberty Water Storage Tank is located on Johnsville Road adjacent to Liberty High School and is readily visible from MD 32.  The storage tank was constructed in 1999 and this project will be the first major repainting and rehabilitation effort undertaken since it has been in service.  The work includes the cleaning and painting of all interior and exterior surfaces of the tank as well as miscellaneous structural and safety system upgrades and repairs.  This work is required to ensure that the tank remains a safe and reliable component of the overall water service system.  The exterior color will remain clearwater blue and any decision regarding a logo associated with Liberty High School will be determined by Carroll County Public Schools.
To perform the work on the interior of the tank, the stored water must be drained, and the tank kept offline until the work is completed in late August to early September time frame.  This may have a minor but temporary impact on water system pressures in the immediate area surrounding the tank.  The Freedom District Water Treatment Plant is prepared to produce and supply additional water needs during this period.
Please contact the Bureau of Utilities at (410) 386-2164 if there are any additional questions or concerns regarding the repainting project.