MD 26 Corridor Plan and Study
Westminster, MD, Friday, September 11, 2020 – In Open Session yesterday, the Carroll County Board of Commissioners participated in a presentation from Maryland Department of Transportation State Highway Administration (MDOT SHA) with an updated traffic and safety analysis for MD 26.
In 2018 the Carroll County Department of Planning and the Bureaus of Engineering and Development Review began working with MDOT SHA to update the traffic and safety analysis for MD 26 in Eldersburg from MD 32 to the Liberty Reservoir. The objective was to assess the existing and future roadway needs, develop strategies to assist with gradual implementation of targeted improvements as needs and opportunities are identified. The presentation reviews the findings of the study. The study findings are intended to be used as a guide to inform the MDOT SHA access permit process and may update the 2007 document.
The Department of Planning will summarize the findings and discussion points based on today's discussion and meet with the Board of Commissioners at a later date.  
Please contact the Carroll County Department of Planning 410-386-5145 for additional information
The recording of this Open Session is available for viewing on the county meeting portal and the county YouTube channel. In addition, all meetings will be replayed on Comcast Channel 24.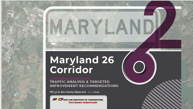 # # #