New App for Residents to Report Issues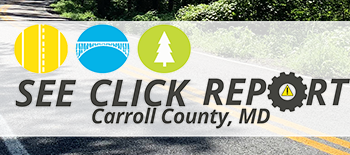 Westminster, MD, Thursday, March 5, 2020 – In Open Session today, the Carroll County Department of Public Works (DPW) updated the Board of County Commissioners that See Click Report, a mobile app and web compatible tool giving citizens real-time access to report issues with county roads, parks and landscaping, is now available to residents. Interested citizens can download the app from the app store or from the Carroll County Government website.
The new app allows citizens to request county services and report issues in county-maintained areas with the opportunity to include location, pictures, videos and specific descriptions of problems such as potholes, downed power lines, and roadkill. See Click Report provides the county with a centralized issue management system and allows residents to track the status of the reported issue. The new program digitizes, simplifies and consolidates internal communication and reduces calls, emails, spreadsheets and notes.
DPW sought a better way to coordinate and track responses countywide regarding citizen complaints and inquiries related to infrastructure and abatement issues. Previously the county lacked standardized documentation procedures for issues between departments and other agencies. County employees handling citizen concerns related to infrastructure and abatement issues will use See Click Report for both public and inter-departmental communications.
Staff is producing a media production to work in conjunction with a strategic promotional campaign using the webpage, digital signage and social media to encourage residents to use See Click Report.
Phase 2 of the project, which includes integration with Cityworks data fields, is currently underway. Upon completion, residents will be able to report on county-operated water and sewer issues. Staff is working with consultant EA Engineering, Science, and Technology, Inc. on the integration.
Please contact the Carroll County Department of Public Works at 410-386-2248 for additional information or go to www.carrollcountymd.gov/See Click Report.
The Open Session is available for viewing on the county meeting portal and the county YouTube channel. In addition, all meetings will be replayed on Comcast Channel 24.