Ribbon Cutting Event Opens EV Charging Station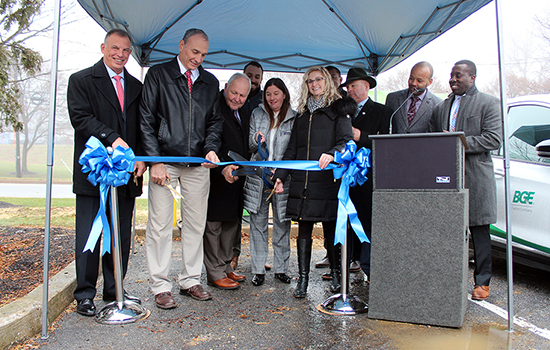 Westminster, MD, Wednesday, December 18, 2019 – Yesterday, the Carroll County Board of Commissioners held a Ribbon-Cutting Ceremony for the county's first new BGE electric vehicle (EV) charging station, located in a parking lot at the main County Office Building at 225 N. Center Street, Westminster.
Commissioner Board President Stephen Wantz began the ceremony with welcoming remarks followed by Commissioner Dennis Frazier, District 3 delivering a brief address. Megan Eaves, External Affairs Manager and Kristy Fleischmann Groncki, Manager of Strategic Programs for BGE spoke for the company. County Director of Public Works Jeff Castonguay gave summary remarks and invited county and BGE representatives forward to cut the ceremonial ribbon.
BGE installed the new charging station, at no charge to the county, and will install and maintain several EV stations throughout the county on county-owned properties. This station includes one quick charger and two standard chargers. Other county locations to soon have EV systems include the Eldersburg Library, North Carroll Library and Carroll Community College.
BGE, An Exelon Company (BGE), plans to build, own, and operate a network of 500 public access EV charging stations across their service area by partnering with state, county, and local governments.
Drivers can use the new charging stations through the Greenlots mobile app or by calling 855.900.PLUG (7584) and will pay 18 cents per kilowatt-hour (kWh) to charge at an L2 charging station or 34 cents per kWh at the company's DCFC stations. A typical EV driver spending one dollar at an L2 charger can expect to gain approximately 20 miles in range.
More information on EVs, chargers, and federal and state incentives can be found at bge.com/electricvehicles.
"We are very excited to celebrate this ribbon cutting for Carroll County as it is the first jurisdiction in the state to join with BGE in this program," said Commissioner Dennis Frazier, District 3. "We are excited to be the leaders in this joint effort and look to the future in ensuring this infrastructure is in place for our citizens to utilize."
"We appreciate our partnership with Carroll County and are excited to have our first DC Fast Charger installed here. Once our 500 charger network is fully built out across central Maryland, it is our hope that drivers will see electric vehicles as a viable transportation alternative. Thanks to the Commissioners, Carroll County DPW and our BGE teammates for coming together on this important project," Megan Eaves, BGE External Affairs Manager said.