Three Reaffirmed Triple A Credit Ratings Bring Historically Low Interest Rates on County's Bond Sale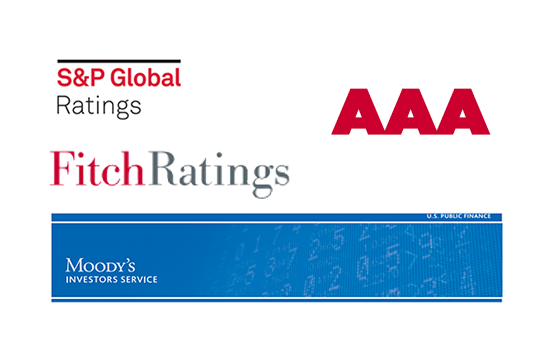 Westminster, MD, Thursday, November 19, 2019 – Carroll County is happy to reveal the recent reaffirmation of three triple A ratings from the three major financial rating agencies, and a subsequent historically low interest rate during today's bond sale which resulted in over $3.7 million in gross savings. Over $54 million in bonds were sold by the county, including $20 million for new issues dedicated to various infrastructure and other capital investments, and $34.01 million to refinance existing debt at lower rates.
County Comptroller Robert Burk led today's presentation to the Board of Commissioners. New bonds were sold at the low interest rate of 1.15%. The interest rate on refinanced debt, 1.15% for tax-exempt and 1.205% for taxable bonds, will save the county over $3.7 million in gross savings. This savings will translate to the freeing of approximately $300,000 each year for 13 years.
Last week, the county received confirmation from all three credit rating agencies that the AAA ratings, achieved for the first time in 2018, are re-affirmed with a stable outlook. S&P noted, related to the county's response to the ongoing pandemic, "As the recovery of the recent national COVID-19-related recession begins, the county has maintained relative stability in its overall economic and financial profile." Fitch indicated the rating reflects "Along with sizable reserves, the county's broad revenue-raising authority and spending flexibility support its superior level of inherent budget flexibility to address periods of economic distress, including the current downturn." Moody's cited, "The Aaa rating is based on the ongoing expansion of the county's large tax base and growing revenue streams, resulting in a consistently healthy and stable financial position. The Aaa rating also incorporates the county's beneficial location near the Baltimore-Washington metro area, above-average resident wealth levels, comprehensive fiscal policies and planning, and manageable debt and pension burdens." Links to the credit agency reports are available on the county Comptroller webpage or at the end of this release.
"We are thrilled to receive reaffirmation of the triple AAA credit rating again which results in this historically low interest bond sale and saves the county millions of dollars," said Board of County Commissioner President Stephen Wantz. "Especially during these challenging times surrounding the pandemic, this is a strong vote of confidence for our financial position, balanced financial management and fiscal planning."
Meetings are available for viewing on the county meeting portal and the county YouTube channel. In addition, all meetings will be replayed on Comcast Channel 24.