Carroll's Ag Land Preservation Program Receives Maryland Sustainable Growth Award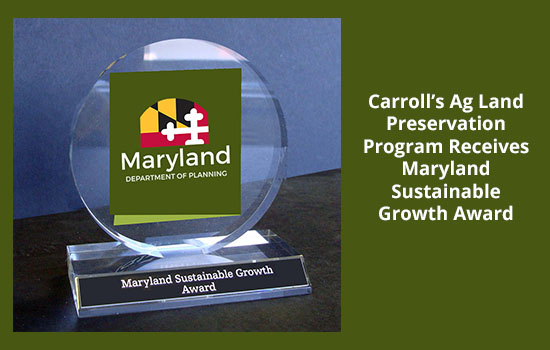 Westminster, MD, Tuesday, September 28, 2021 – Carroll County Government is pleased to announce that the Carroll County Agricultural Land Preservation Program was selected by the Maryland Department of Planning to receive a 2021 Maryland Sustainable Growth Award for Preservation and Conservation. The Maryland Sustainable Growth Awards celebrate significant achievements by individuals, businesses, organizations and local governments to realize the 12 planning visions adopted by the Maryland General Assembly. The annual awards promote exemplary work that represents or inspires collaboration, innovation, conservation, community impact and quality of life.
The annual awards, presented by the Maryland Department of Planning, are the highest level of recognition for managed growth and development in the state. The 2021 Sustainable Growth Awards will be presented at the ninth annual Maryland Sustainable Growth Awards Ceremony later this fall.
Preservation/Conservation Project awards are presented for accomplishments in protecting or improving farms, forests, natural resources, and the waters of Maryland. This award recognizes outstanding efforts to:
Save Maryland's farm and forest land, promoting environmentally sound farming practices, and supporting a sustainable future for farms;
Promote habitat management and wildlife conservation; and
Protect the environment and advancing conservation practices.
Carroll County's Agricultural Land Preservation Program embodies the state's sustainability and environmental visions. Preserving large, contiguous tracts of agricultural land is essential to building a "critical mass" of viable agricultural operations for sustaining agribusiness such as farm suppliers and ag lenders, necessary for farm operations to thrive.
The program preserves productive agricultural land area with high-quality soils for agriculture production.  It also creates conservation easements on properties, requiring 50-foot stream buffers which help support the health of the Chesapeake Bay and its tributaries. Total Resource Management Plans, consisting of nutrient management plans and soil and water conservation plans, are also required. Many of the county's preservation agreements also include restrictions that promote groundwater recharge.
"Carroll County's ag land preservation program is a jewel for the county, and it is exciting to be recognized by the state for our efforts toward protecting the environment," said Commissioner Ed Rothstein. "Along with providing a beautiful countryside, our farms are critical for food production, sustaining our quality of life and adding to the county's economic base."
Carroll County also reached a milestone in fall of 2020 by preserving 75,000 acres, 75% of its 100,000-acre goal. Operating since 1980, Carroll County's Agricultural Land Preservation effort is the most successful in the State of Maryland, preserving more farms and more acres through the purchase of land preservation easements than any other county in Maryland and also ranks among the nation's top five similar programs administered by local governments in the United States. An event celebrating this accomplishment is planned for October 16, 2021, at the Carroll County Farm Museum.
For more information, contact Carroll's Agricultural Land Preservation Program at 410-386-2214 or CCAgPres@CarrollCountyMD.gov.