Commissioner Wantz Becomes Board Chair of the Baltimore Metropolitan Council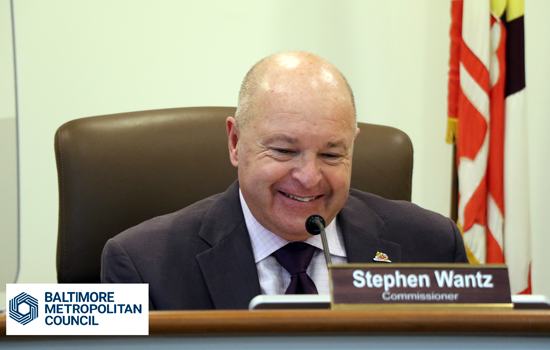 Westminster, MD, Friday, January 15, 2021 – Today, Carroll County Board of Commissioner Stephen Wantz, District 1, ascended to the role of Board Chair for the Baltimore Metropolitan Council (BMC). Commissioner and Board Chair Wantz presided over his first Board of Directors meeting this morning. Commissioner Wantz has been involved with the BMC since 2015.
The mission of the BMC is to work with the region's elected executives to identify mutual interests and develop collaborative strategies, plans and programs that help improve our quality of life and economic vitality. BMC, as the Baltimore region's council of governments, hosts the Baltimore Regional Transportation Board (BRTB), the federal metropolitan planning organization (MPO), and supports local government by coordinating efforts in a range of policy areas including emergency preparedness, housing, cooperative purchasing, environmental planning and workforce development.
BMC's Board of Directors includes the executives of Anne Arundel, Baltimore, Harford and Howard counties, the mayor of the City of Baltimore, a member of the Carroll County and Queen Anne's County boards of commissioners, a member of the Maryland State Senate, a member of the Maryland House of Delegates, and a gubernatorial appointee from the private sector.
"I am proud to represent Carroll County on the BMC," said Commissioner Wantz.  "The region's strength and success are valuable to the county, the region and Maryland as a whole. I look forward to continuing regional collaborative efforts with my colleagues as we work on the challenges ahead."