Commissioners Consider Allowing Community Solar on Remaining Portions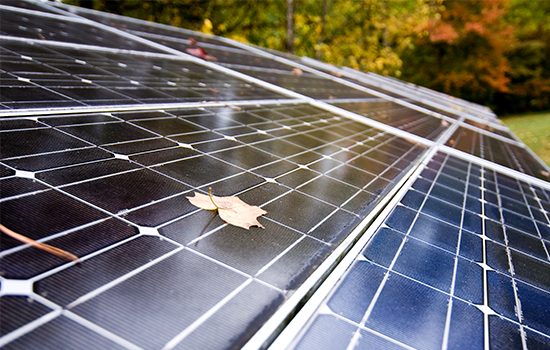 Westminster, MD, Thursday, December 17, 2020 – The Board of County Commissioners ("Board") is considering a proposal for a zoning text amendment that would expand opportunities for community solar development in Carroll County to certain parcels in the "A" Agricultural zoning district. Staff developed proposed concepts for a zoning text amendment. These concepts seek to balance expanding these opportunities with protecting farmland and the county's investment in agricultural land preservation, co-locating with agricultural use, and addressing common concerns with solar in agricultural areas.
Commercial solar facilities are currently a principal permitted use in the commercial and industrial zoning districts in Carroll County. The proposal would allow community solar facilities to be developed on existing remaining portions five acres or greater in size in the Agricultural zoning district. Remaining portions are the land remaining after residential subdivision lots have been created from a legally established parcel of land through the subdivision process.
At the Board's direction, an amendment to the zoning code will be drafted to incorporate the proposed concepts. The proposed amendment to the text of Chapter 158 Zoning of the Carroll County Code will be presented to the Carroll County Planning and Zoning Commission for review and to make a recommendation to the Board. Once a date to begin review with the Planning and Zoning Commission is confirmed, the date will be posted on the Community Solar Zoning Text Amendment webpage.
For more information about the community solar zoning text amendment, please check out the webpage at https://www.carrollcountymd.gov/government/directory/land-resource-management/zoning-administration/community-solar-zoning-text-amendment/. Contact Brenda Dinne, Land & Resource Management Special Projects Coordinator, by email at bdinne@carrollcountymd.gov or by calling 410-386-2140 with questions or for more information.