Cooling Centers to Open Monday - Tuesday, July 12 and 13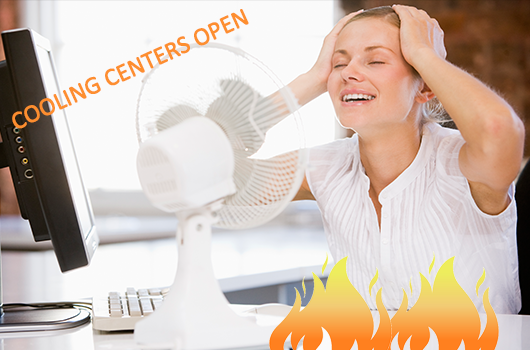 Monday, July 12, 2021 – Forecasters are anticipating excessive heat and humidity for our area from today, Monday, July 12 through Tuesday, July 13. Because of this week's anticipated high temperatures, the Carroll County Department of Citizen Services, Human Services Programs of Carroll County (HSP), and the Carroll County Public Library will operate cooling centers around the county.
Residents who are vulnerable to extreme heat and who do not have air-conditioning in their homes are encouraged to cool off in the following locations until the close of business:
HSP's Day Center at St. Paul's United Church of Christ at 17 Bond Street in Westminster remains open daily from 10 AM until 8 PM and is available as a cooling center.
Cooling centers are open during regular business hours at select County Senior Centers.
Mount Airy Senior and Community Center, 703 Ridge Avenue, Mount Airy (8 AM - 4 PM)
North Carroll Senior and Community Center, 2328 Hanover Pike, Hampstead (8 AM - 4 PM)
South Carroll Senior and Community Center, 5928 Mineral Hill Road, Eldersburg (8 AM - 4 PM)
Taneytown Senior and Community Center, 220 Roberts Mill Road, Taneytown (8 AM - 4 PM)
All branches of the Carroll County Public Library will be open as cooling centers during regular business hours on Monday – Tuesday, 9:00 AM – 8:00 PM.
Eldersburg Branch, 6400 W. Hemlock Drive, Eldersburg
Finksburg Branch, 2265 Old Westminster Pike, Finksburg
Airy Branch, 705 Ridge Avenue, Mt. Airy
North Carroll Branch, 2255 Hanover Pike, Hampstead
Taneytown Branch, 10 Grand Drive, Taneytown
Westminster Branch, 50 East Main Street, Westminster
Access to air conditioning and water will be available for those who need them at any of the cooling centers. If you have not been vaccinated for COVID-19, masks and social distancing are recommended.
Carroll County Emergency Management offers the following safety tips for when temperatures and humidity are high:
Slow down. Strenuous activities should be reduced or rescheduled to the coolest time of the day.
Wear loose, lightweight, and light-colored clothing.
Eat less protein and more fruits and vegetables, and drink plenty of water.
Stay in air-conditioned buildings or rooms, and limit time outside if possible.
For additional information, visit the Carroll County Health Department website at: https://cchd.maryland.gov/