County Proclaims Older Americans Month and Children's Mental Health Awareness Week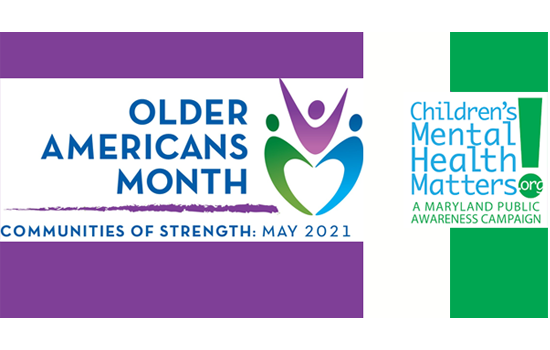 Westminster, MD, Thursday, May 6, 2021 –Today, in open session, the Board of County Commissioners proclaimed May as Older Americans Month and May 2nd through 8th as Children's Mental Health Awareness Week.
Older Americans Month honors the growing number of older adults throughout Carroll County during the month of May.  Older adults have built resilience and strength over their lives through successes, failures, joys and difficulties.  Their stories and contributions help to support and inspire others.  Every day, older adults make a positive impact in our communities.  Their diverse life experiences and insights enrich and strengthen our neighborhoods, workplaces, and families.  This year's theme is Communities of Strength.  We invite all older adults to continue making their mark in Carroll County by: helping their community stay safely connected, particularly by reaching out to younger adults and adolescents who are facing significant struggles for the first time in their lives; bringing neighbors of all ages together by volunteering their time to help organize safely distanced outdoor events; and easing social isolation in their community by creating group projects.
Carroll County, including a growing number of older Americans who make countless contributions to our community every day, recognizes that Carroll County is stronger when people of all ages, abilities, and backgrounds are included and encouraged to strengthen their communities.
Children's Mental Health Awareness Week recognizes:  addressing the complex behavioral health needs of children, youth and families today is fundamental to the future of Carroll County; one in five children experience a diagnosable mental, emotional or behavioral health challenge a year, yet only 20 percent are identified and receive treatment; the need for comprehensive, coordinated behavioral health services for children, youth, young adults and families places a critical responsibility upon our community; Carroll County behavioral health providers, offering unique approaches to serving children, youth, young adults and families with behavioral health concerns, are effectively caring for the needs of those within our community; and mental health is something everyone has, regardless of age, gender, race, culture, income or education.  Mental health awareness helps all children to be successful in school, at home, in the community and in their future adult lives.
Open session is available for viewing on the county meeting portal and the county YouTube channel. In addition, all meetings will be replayed on Comcast Channel 24.