County's Triple A Credit Ratings Reaffirmed Low Interest Rates on County's Bond Sale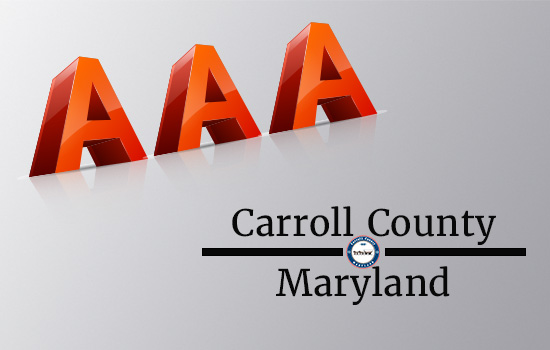 Westminster, MD, Monday, November 22, 2021 – Carroll County is happy to reveal the recent reaffirmation of three triple A ratings from the three major financial rating agencies, and a subsequent low-interest rate during the November 18, 2021 bond sale. New issue bonds in the amount of $22 million were sold by the county, dedicated to various infrastructure and other capital investments.
County Comptroller Robert Burk led last week's presentation to the Board of Commissioners. New bonds were sold at the low-interest rate of 1.56%.
Recently the three credit rating agencies, Fitch Ratings, Standard & Poor's and
Moody's Investors Services, all reaffirmed the county's AAA ratings, the highest possible rating.  Links to the credit agency reports are available on the county Comptroller webpage.
"Staff and the Board of Commissioners work diligently to establish and maintain conservative fiscal practices and are thrilled to receive reaffirmation of the triple AAA credit rating," said Board of County Commissioner President Ed Rothstein. "This is great news and it's gratifying to receive acknowledgment that the county's conservative fiscal management, financial position, and fiscal planning remain strong."
Meetings are available for viewing on the county meeting portal and the county YouTube channel. In addition, all meetings will be replayed on Comcast Channel 24.