County to Open and Continue Enhanced Visitor Badge System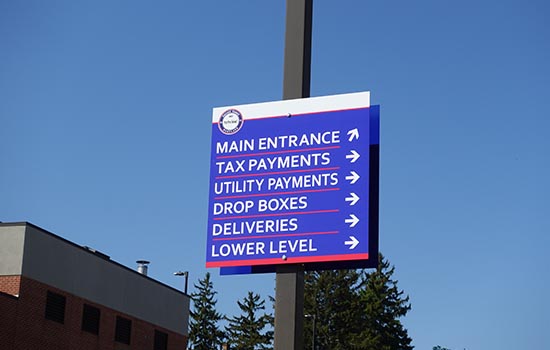 Westminster, MD, Monday, May 24, 2021 – In light of Maryland Governor Hogan lifting restrictions and removing capacity limits, beginning Tuesday, June 1, 2021, Carroll County Government will end building restrictions due to COVID-19 and continue the enhanced visitor management and appointment system which existed prior to the pandemic. Collections, Permits & Inspections, Board of Commissioner Open Sessions, and county boards and commissions meetings will be open to the public without appointments.
Due to enhanced safety and security protocols, most departments will operate by appointment only and visitors will be escorted to and from destinations. Health assessments will no longer be required; however, visitors and staff are encouraged to exercise health safety protocols based on individual comfort levels. Distancing and handwashing are encouraged and hand sanitizers as well as protective plexiglass will remain. At the main County Office Building, all visitors are required to check-in at the Information Desk and present a valid photo identification to receive a stamped visitor's badge. Staff will be called to escort guests to appointments and back to the visitor's desk when departing the building. Visitors should contact the county or the department of choice for an appointment before arriving. For customer convenience, the county will continue to provide drop boxes at their current location within the lower side entrance area near Room 003 (labeled Public Hearing Room outside).  
Effective at the start of business on Tuesday, June 1, Carroll County Government will implement new building guidelines. Please read below for general information and then specific information related to each department, bureau or office:
1. County facilities open to the public with appointments:
Main County Office Building, 225 N. Center Street, Westminster. Call 410-386-2400 with questions. Visitors may attempt drop-in appointments by checking in at the visitors' desk and contacting the staff person of interest.
County Maintenance Center, Old Meadow Branch Road, Westminster. Call Roads at 410-386-6717, Fleet at 410-386-6750, Facilities at 410-386-6704
Bureau of Housing, Distillery Building, 10 Distillery Drive, Westminster. Call 410-386-3600
Bureau of Aging at the Westminster Senior Center, 125 Stoner Avenue, Westminster. Call 410-386-3800
Robert Moton Center, 300 South Center Street, Westminster. Call 410-386-2103
Business Employment Resource Center (BERC) Call 410-386-2820
2. County Facilities open without appointments:
Collections (Bill payments) (Deeds by drop box only)
Permits & Inspections
County Commissioner Open Session: public comment will be available in person and also by phone. Callers should check the commissioner agenda each week for call in information.
Senior & Community Centers
Visitor's Center
Farm Museum
3. County facilities continuing with normal operations:
Northern Landfill – 410-386-4550
Carroll County Regional Airport – 410-876-9885
Carroll Transit – 410-386-5550 Note: Masking is still required on public transportation.
4. PAYMENTS: Customers wishing to make any payments to the county are strongly encouraged to use the locked county drop box located in the lower parking lot (parking lot A) or mail to:  Carroll County Government, Collections Office, 225 N. Center Street, Westminster, MD 21157. Payments may also be paid at a local library, paid online at paybill.carrollcountymd.gov (fees apply) or made by telephone IVR system at 1-833-632-0800 (fees apply).
5. Employment applications will be accepted online via the county Department of Human Resources webpage https://www.carrollcountymd.gov/government/directory/human-resources/.
6. County Boards and Commissions may meet in person or virtually.  Check Boards and Commissions meeting announcements for more detail.
7. DROP BOXES:  Drop boxes for various departments will continue at the current location within the lower side entrance area near Room 003. Drop off is during business hours.  Please visit the county website for a listing of available drop boxes. https://carrollcountymd.gov/dropbox
8. Any residents with a question should call the main phone number at 410-386-2400 for information. A directory of departments with phone numbers is also available on the county website.
The Carroll County Board of Commissioners thanks all Carroll County residents for doing their part to end this pandemic and encourages all those not vaccinated to do so.  The board is committed to ensuring the security of its employees and those entering the building for county business. Should circumstances change, the commissioners reserve the right to make adjustments to building access and protocols to maintain the safety for all.