Heyn Promoted to Director of Land and Resource Management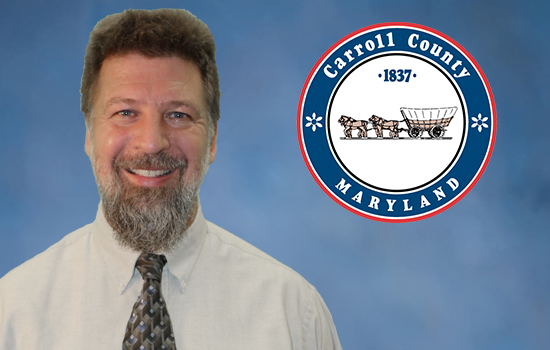 WESTMINSTER, MD, Monday, June 7, 2021 – The Carroll County Board of County Commissioners is pleased to announce the promotion of Mr. Christopher Heyn as the Director of the Department of Land and Resource Management.  Mr. Heyn was acting director of the department since March 2021.  The new title is immediate.
Mr. Heyn began employment with Carroll County in 2010 as the Engineering Reviewer in the Bureau of Development Review.  He is a registered professional engineer and was responsible for ensuring compliance of roadway and storm drain infrastructure design with county and state regulations.  In 2013, Mr. Heyn became the County Watershed Restoration Engineer, overseeing the design and construction of stormwater management retrofits to meet county water quality permit requirements.  In 2020, he received another promotion to Bureau Chief of the Bureau of Resource Management, expanding his responsibilities to oversight of stormwater management, grading, forest conservation, and water resources in the county.  Mr. Heyn's new title will give him management responsibilities for the Bureau of Development Review, Agriculture Preservation, and Zoning Administration.
Mr. Heyn earned his Bachelor of Science Degree in Civil Engineering from Lehigh University and a Master of Science Degree in Environmental Engineering from Johns Hopkins University.  Prior to his 11 years of service to Carroll County, he worked as an engineering consultant for 17 years.
Mr. Heyn and his wife have lived in Westminster since 1995.  They have two sons who both graduated from Winters Mill High School.  Their older son is currently studying environmental engineering at Clarkson University and their younger son is currently studying business law at Drexel University.  As both Mr. Heyn and his wife are registered professional engineers, it is no surprise that they are extremely proud of their "Clarkson Knight" and "Drexel Dragon." 
Commissioner Ed Rothstein, President of the Board of Commissioners, said, "Chris has done a great job managing Land and Resource Management as an acting director and this promotion is well-deserved. His education, knowledge and experience will provide essential leadership in this critical role for the county. His demonstrated ability to lead Carroll County's oversight, implementation and management of programs related to zoning, development review, resource management and agriculture preservation make him a valued member of our management team."