Register for Free Ag Preservation Event Bus Tour Today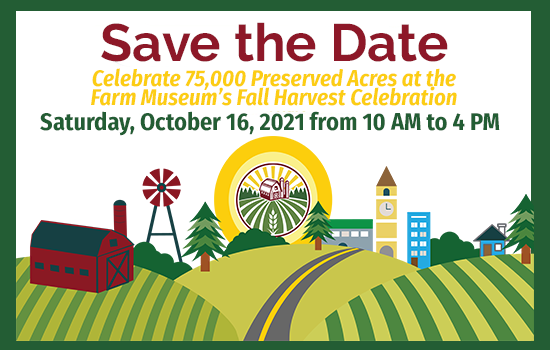 WESTMINSTER, MD, Monday, October 4, 2021 – All individuals planning to attend the October 16th Celebrating 75,000 Acres Preserved & Growing event celebrating the county's attainment of 75,000 acres of preserved agricultural land are invited to register for the free morning bus tour featuring nearby preserved farms.  The hour-long tour will depart at 10:30 AM.  If interested in the free tour, register online on the county webpage by Thursday, October 7, 2021. Registration is first come, first served.
Carroll County is celebrating the milestone of reaching 75,000 preserved acres; 75% of the county's overall 100,000-acre goal. The county invites all residents and interested parties to attend the event from 10:00 AM to 4:00 PM at the Carroll County Farm Museum. The day is free to the public as part of the Farm Museum's Fall Harvest Celebration and includes a special commemorative ceremony at 12:30 pm on the Farm Museum stage.   
Everyone is welcome and encouraged to attend and more information can be found on the county's webpage celebratingagpres.carrollcountymd.gov.