Robinson Announced as New Director of County Fire and EMS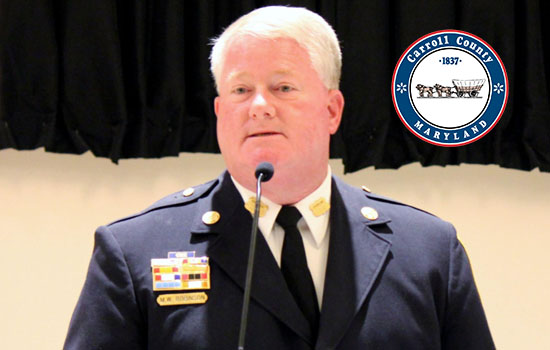 Westminster, MD, Thursday, September 2, 2021 –The Carroll County Board of County Commissioners is pleased to introduce Michael W. Robinson Sr. as the new county Director of Fire and Emergency Medical Services. Mr. Robinson will join the county in his new role on September 9, 2021.
Mr. Robinson brings 45 years of extensive experience in combined career and volunteer leadership roles serving several fire/rescue service organizations.  Director Robinson will be charged with the overall direction, administration and evaluation of the newly established Department of Fire and Emergency Medical Services (EMS) and will plan, develop, implement and evaluate a county-wide combination fire and EMS system, policies and procedures.  He will also work closely with the Department of Public Safety and coordinate operations with the Carroll County Volunteer Emergency Services Association to promote fire prevention and protect the lives and property of Carroll County residents.
"I am honored to be selected for this position and look forward to the challenges ahead as the emergency services of Carroll County move toward a combination Fire/EMS system that is a model of excellence and efficiency," said Michael Robinson. "I also wish to thank the Board of County Commissioners for their confidence and trust in making their selection."
Mr. Robinson's experience includes ten years as division chief for the Baltimore County Fire Department where he served as a senior level program manager with a department of 1100 career and 2000 volunteer personnel. This position provided leadership and administration to approximately 250 personnel deployed from 26 career stations and volunteers deployed from 30 fire rescue stations.  This position included management level decision-making and administration including budgeting, human resources, master and contingency planning, logistics, operational command and control, communications, special operations, public education and public information.
Mr. Robinson earned a Master of Arts degree in Human Resource Development from Bowie State University and a Bachelor of Arts degree in history from Stetson University in DeLand, Florida. His education and training also include numerous professional certifications, licensures and extensive coursework in emergency services and fire rescue.  Over his career, Mr. Robinson received many awards and honors including the recent Chief John W. Hoglund Leadership Award from the Maryland Fire Chiefs Association, in recognition of his lifetime achievement in the Fire/EMS services. He currently works as an instructor and owns a small business consulting in emergency services as well as a volunteer firefighter/paramedic with Upperco VFC and a paid paramedic for the Reisterstown VFC.
Mr. Robinson is married with 5 children, 1 grandchild and one grandchild "on the way".  He enjoys travel, family time, golf and anything to do with the fire department.  
"We are excited to welcome Michael to this critically important role for Carroll County," said Commissioner Stephen Wantz. "The director is the cornerstone for building the best combination system possible, and we believe hiring Michael gives us a huge advantage moving the department forward. He is well known and respected in the state, has comprehensive knowledge of all aspects of Fire/EMS from legislative issues to front line operations, and has the leadership and experience for this complex and momentous initiative."