September is Emergency Preparedness Month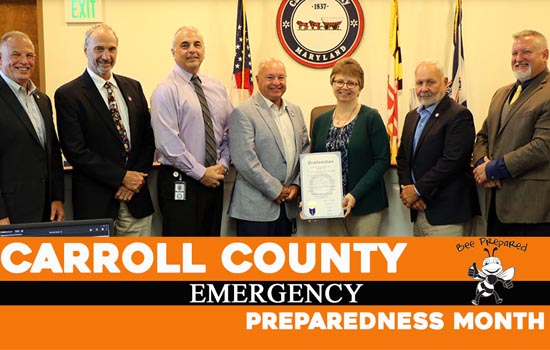 Westminster, MD, Thursday, September 2, 2021 – Today, the Carroll County Board of Commissioners proclaimed September as Carroll County Preparedness Month.  September is also Maryland Preparedness Month and National Preparedness Month.
The theme for this year's preparedness month for Carroll County is "Don't be scared, be prepared!" Through the month of September, and year-round, the citizens of Carroll County are encouraged to have a plan and keep an emergency kit stocked and prepared in case of a need to shelter in place or evacuate. Building a kit and a plan with friends and family can be fun and can help put minds at ease knowing that you and your family have the items you need in an emergency.
Common items that are a good idea to include in a ready kit are a flashlight with extra batteries, shelf-stable food, water for drinking and sanitation, a first aid kit, local maps, and a whistle to signal for help.
"It is never too early to know your risks and take appropriate preparatory actions before a disaster strikes," Board of County Commissioners President Ed Rothstein noted. "As we have seen from COVID-19 and now the storm that passed through the county yesterday, emergencies can occur at any time and I encourage all residents to put safety first, evaluate their situations and learn how to prepare."
Several online sources providing good emergency preparedness information include:
Additional information can also be found in the Are You Ready? Citizen's Guide to Emergency Preparedness, and on the Carroll County Emergency Management website.
Open session is available for viewing on the county meeting portal and the county YouTube channel. In addition, all meetings will be replayed on Comcast Channel 24.