Stormwater Facility Wins Project of the Year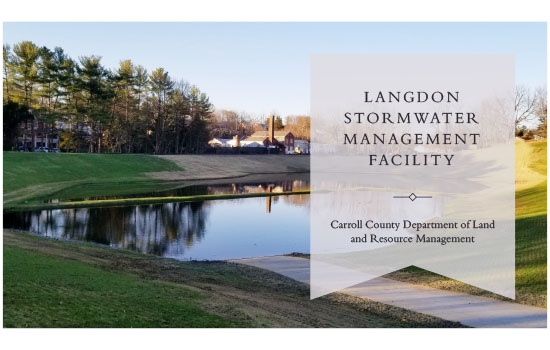 WESTMINSTER, MD, Thursday, October 7, 2021 – The Carroll County Board of Commissioners is pleased to announce receiving the 2021 County Engineers Association of Maryland (CEAM) Mid-Size Project of the Year for the Langdon Stormwater Management Facility project.  This award was presented in recognition of an outstanding county initiative that addresses the needs of the citizens, provides a cost-effective solution and demonstrates innovative engineering and construction.
The Langdon project was a cooperative project with the Carroll County Bureau of Resource Management and the City of Westminster that installed a stormwater management pond adjacent to Westminster Avenue designed to remove pollutants from 96 acres of impervious area before discharging into the headwaters of Double Pipe Creek.  The innovative construction included contracting the Maryland Midland Railroad to haul over 75,000 cubic yards of material from Westminster to sites in New Windsor.
Carroll County's Director of Land and Resource Management, Christopher Heyn, received the award at the CEAM Fall Conference on September 30, 2021.  Mr. Heyn delivered a presentation at the conference highlighting the accomplishments of the project.  A copy of the presentation can be viewed here.
Mr. Heyn is very appreciative of the team responsible for the project.  "This project was only a success because of the dedication and hard work of the firms and organizations who all cooperatively came together to overcome some very difficult challenges."
The $3.15 million dollar project was partially funded with grants from the Maryland Department of Natural Resources and the Federal Highway Administration - Transportation Alternatives Program.
"Carroll County continues to put emphasis on being good stewards of the environment," said Board of Commissioner President Ed Rothstein. "It is gratifying and validating when large professional organizations such as CEAM recognize our staff's innovation and dedication to our environmental projects."