Comprehensive Rezoning Listening Session and Public Hearing Dates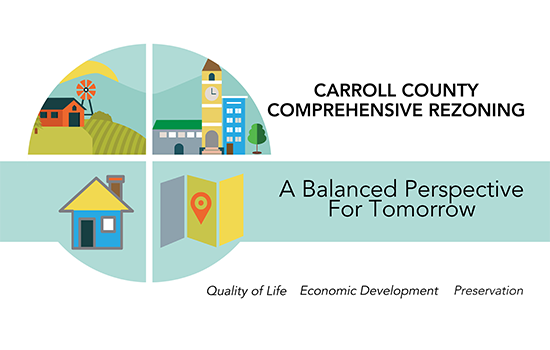 FOR IMMEDIATE RELEASE
Contact: Lynda Eisenberg, Director of Planning
410-386-5145
Westminster, MD, Wednesday, October 21, 2020 – The Carroll County Board of Commissioners will host a virtual listening session on Thursday, October 29th from 7:00 pm – 9:00 pm.  The purpose is to gather citizen feedback on properties considered for rezoning as part of the county's comprehensive rezoning process, prior to Commissioner discussions during work sessions.  The official public hearing will be held virtually on Thursday, December 3, 2020 beginning at 7:00 pm.
The public is encouraged to use both dates as opportunities to offer feedback on properties currently being considered for rezoning to commercial, industrial or employment campus designations.  
The listening session and public hearing will both be held in a virtual environment.  To participate in either or both sessions and offer comment, please sign up for each day using the "click here to sign-up" button on the county's comprehensive rezoning webpage.  Speakers will be called in the order that they have filled out the form and signed up for comment.  Each speaker will have three minutes to speak regarding the comprehensive rezoning.
There are several ways to submit comments:
Comments can be submitted by using this link: Submit Your Comments.
Residents can email comments directly to the Carroll County Department of Planning at ccplanning@carrollcountymd.gov.
Comments can also be mailed to the Carroll County Department of Planning. 225 North Center Street, Westminster, MD 21157.
For more information, to join the email list and to leave a comment please go to carrollrezoning.org.