Union Mills Homestead Foundations Officers and Board of Governors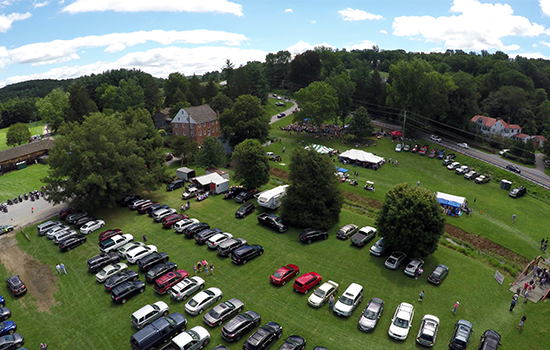 The Union Mills Homestead, the Shriver family homestead for six generations, is located in Union Mills, Maryland, about 17 miles south of Gettysburg, PA. The Homestead is now a museum of American culture, operated by the Union Mills Homestead Foundation, a non-profit foundation with all proceeds dedicated to the preservation and restoration of the Union Mills Homestead Complex.
UNION MILLS HOMESTEAD FOUNDATION OFFICERS AND BOARD OF GOVERNORS
**Appointments are made for a term of three (3) years.  The Foundation submits a letter to the Commissioners with their recommendations, asking the Commissioners to approve the appointments.
     MEMBER                                                                                      EXPIRATION DATE
Mr. Edmund Cueman                                                                          October, 2021
Mr. Tony Eckard                                                                                 October, 2021
Mr. Henry Franklin                                                                             October, 2021
Mrs. Jennie Grabill                                                                             October, 2021
Mr. David M. Shriver                                                                          October, 2021
Mr. James M. Shriver, III                                                                    October, 2021
Dr. Cornelius Darcy                                                                           October, 2022
Mr. William Klinger                                                                            October, 2022
Mrs. Ellen Lichtfuss                                                                           October, 2022
Ms. Helen D. Macsherry                                                                     October, 2022
Mr. Ferdinand Ruppel                                                                         October, 2022
Mr. George Shriver, III                                                                       October, 2022
Mrs. Helen Hosfeld                                                                             October, 2023
Mrs. Marlene Lufriu                                                                            October, 2023
Mr. Richard Mancini                                                                            October, 2023
Mr. Samuel Riley                                                                                October, 2023
Mrs. Jane Sharpe                                                                               October, 2023
Mrs. Sharon Sheppard                                                                        October, 2023
Mr. Frank Shriver                                                                               October, 2023
Dr. Dawn Thomas                                                                               October, 2023
Mr. Stan Yeakel                                                                                  October, 2023
Contact:
Ms. Jane S. Sewell, Executive Director
410-848-2288 (Office)