Peace of Mind for Those Home Alone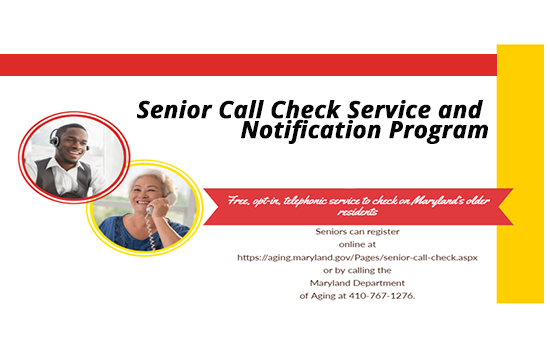 Maryland is the first state in the country to start a free, opt-in, telephonic service to check on Maryland's older residents, all across the state.
HOW DOES IT WORK?
Every day a telephone call will be placed to a participant at a regularly scheduled time. These calls will take place between 8 a.m. and 4 p.m. as close as possible to the one-hour time block pre-selected by the participant. If the participant does not answer their first call, they will be tried two more times. If those calls go unanswered, additional calls will be made to notify an alternative person who is selected by the participant during program enrollment. This could be an adult child, a neighbor, or another loved one. The alternate will then be encouraged to check on the older adult program participant. The failure of the participant and alternate to answer may result in a Welfare Check by local law enforcement. 
WHO CAN PARTICIPATE?
Any Maryland resident who is 65 years of age or older who has a landline phone or cell phone (TTY is available). The participant and alternates should not have automated call blocking technology (or they should disable that phone feature for this program).
HOW TO APPLY?
Three options available to apply:
1. Click on REGISTER NOW below.
OR
2. Click on APPLICATION on the left sidebar, print then mail in. 
OR
3. Call toll-free (866)-502-0560 and ask to have a hard copy application mailed to your home. 
WHEN DO CALLS BEGIN?
Daily calls will not begin until the applicant/participant receives a call to verify all of their information. Verification will include a successful test automated call to both the participant and alternate where applicable. After all the information is validated, a Welcome Packet will be mailed to your home address. The welcome letter will include your start date.