Celebrating 75,000 Acres Preserved & Growing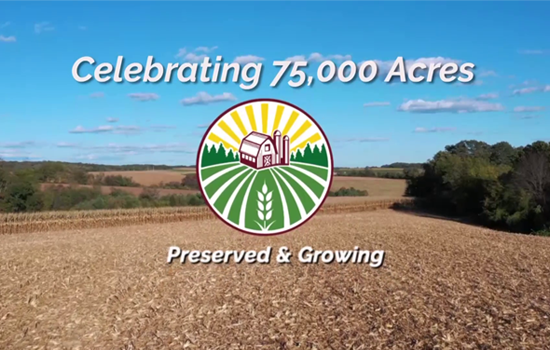 In 2020, Carroll County reached the milestone of 75,000 acres preserved. This is 75% of the 100,000-acre goal.  To celebrate the occasion, the Fall Harvest Celebration at the Farm Museum featured Celebrating 75,000 Acres Preserved & Growing.  The celebration included a commemorative ceremony, a bus tour of nearby preserved farms, and an agricultural land preservation exhibit. The event was held on Saturday, October 16, 2021, at the Carroll County Farm Museum and was free to the public. 
An educational campaign accompanied the event promoting the benefits of preservation to the community and the importance of public support for "growing" preserved land acreage to attain the remaining 25,000 acres.
A community-based committee worked with staff to guide the event planning. 
Jason Dudderar, Co-Chair
Karen Hecht, Co-Chair
Bill Schrodel, Co-Chair
Crystal Dell
Tom Irwin
Bob Shirley
The event was funded through community sponsorships.
Secretary Bartenfelder Presents Framed 75K Poster to Governor (2021-Nov-9)
For more information, contact the Ag Pres Program staff at 410-386-2214 or CarrollAgPres@CarrollCountyMD.gov